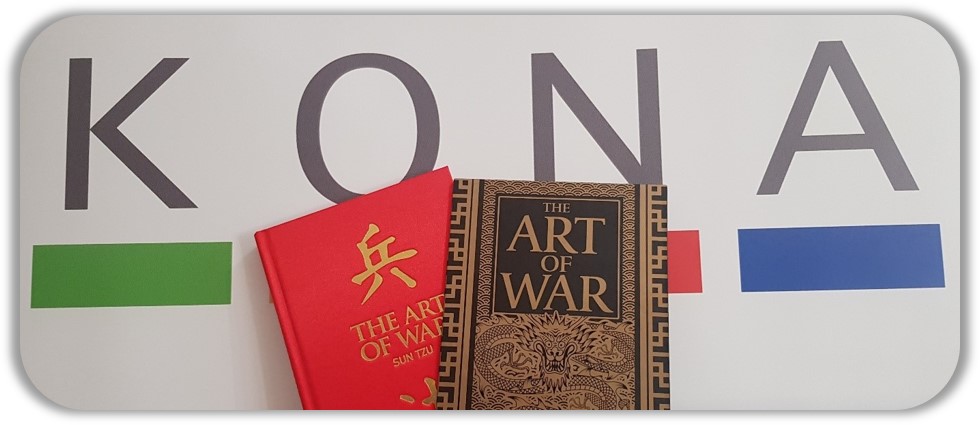 "The general who wins the battle makes many calculations in his temple before the battle is fought. The general who loses makes but few calculations beforehand. Thus, do many calculations and lead to victory, and few calculations to defeat; how much more no calculation at all! It is by attention to this point that I can foresee who is likely to win or lose."
– Sun Tzu
Sun Tzu was a Chinese general, military strategist, writer and philosopher who lived in the Eastern Zhou period of ancient China. Sun Tzu is traditionally credited as the author of The Art of War, an influential work of military strategy that has affected both Western and East Asian philosophy and military thinking.
Full name: Sun Tzu Born: 544 BC Died: 496 BC
Every Business must have a Plan
Regardless of your working situation, COVID or not, every business must have a plan.
Does your team know what success looks like?
A PR report has found in the current situation we are facing, only 10% of communication executives have done extensive planning.
Recent research has found that approximately 80% of business fail within their first year of operation, while 25% do not have a business plan. It is no coincidence that these two facts are linked – proper planning, budgeting, and forecasting are all an essential part of success.
How can you create a successful business when you do not know where it is going?
Thinking about the future means learning to think differently. Change is everywhere and pops up at any time, as COVID has proven.
How do you combat change in a business environment?
Change challenges all our current practices whether we like it or not. Change challenges:
Mindset

Decisions

Policies

Products
Implementing the The Three Horizons (3H) Growth Model.
This process when taught to your leaders and team correctly and rolled out immediately, re-frames your team's thinking to produce results and hit every KPI set.
The 3 Horizons Growth Model is a learned process that bridges today to tomorrow.
Why Train Your Team and Yourself in the Three Horizons 3H Growth Model?
By implementing the 3 Horizons Growth Model across your business you instantly address and benefit from the Six Key Achievements of Planning:
1. Measured Improvement
What can be measured, can always be improved. A 3H business plan gives you direction and focus in Sales, ensuring you and your team meet KPI. It is only through improvement and growth that a business and employee can maximise profitability.
2. Projected Growth
With a 3 Horizon's plan in place, you can meet goals ahead of target, which then allows you to think about – what to do next? In other words – GROW. By consistently monitoring and improving your business plan you begin to set achievable goals for growth. When change occurs, you are then able to evolve with the challenges.
3. Progressive Mindset
When you and your team start operating under a 3 Horizons mentality you all begin to operate from the same manual. The entire organisation's thinking becomes focused on the wider scope and the impact the team's current day activity has on future results.
4. Team Cohesion and Drive
What is the business' value proposition?
Does the team agree on a set definition?
Are you all uniform in the eyes of the customer?
A business plan with 3H in place ensures the company's philosophy is not only front of mind but also actioned daily.
5. Customer-Centricity
Customers are actually more attracted to a bespoke offer that connects them, rather than a one-size-fits-all agreement. Does your team know how to profile a customer? You must have a customer centric plan in place to be able to help the customer that comes knocking.
How will the business operate without a plan? Most businesses fail because of poor Sales Management. Consider the activities the team is going to perform in order to generate revenue in a month, three months and six months. A plan is only the start of the process – but everything has a start or it goes nowhere. Do you have a plan on how to deliver your goods or services on time and to the standards required?
6. Education
Employee knowledge base is the most essential part of a business. What tailored training and education support do you have in place to maximise the intellectual power of your team? Their knowledge is your ROI.
Planning is a crucial part of business life – without a plan for results you are simply left with a plan to fail.
The 3 Horizons Growth Model is being rolled out globally by the KONA Group. DOES YOUR TEAM HAVE A PLAN?
The recent changes in work from home situations globally has seen access to our R.E.A.L Academy (Remote Education Active Learning) skyrocket, so we will continue to fill the learning spots on a first in first scheduled basis. Call 1300 611 288 or email info@kona.com.au to secure a spot.
Call 1300 611 288 or Email info@kona.com.au
---