Negotiation Skills Training and Coaching
How much is poor negotiation costing you?
You may be surprised to learn that ineffective sales negotiation techniques cause businesses to lose up to 50% of their net profit. And most are unaware of it.
Let's talk about mastering Negotiation skills.
Contact Us
Key Negotiation Techniques
Give your team the negotiation tools they need to grow your business. 
The Art of Negotiation
Negotiation Skills Training from KONA
The art of negotiation involves effective communication, active listening, and compromise. 
It requires understanding the other party's needs and interests while asserting your own. Building rapport, finding common ground, and maintaining patience are key. 
Successful negotiators seek win-win solutions, adapt to changing circumstances, and stay focused on their goals.
Enhance your team's negotiation skills to secure better deals, build stronger relationships, and improve profitability.
"As a sales and negotiation professional, I have been involved in a few courses. I am very impressed by the way Garrett gets to the point directly and I know he speaks from experience. He has lived it. I would like to work with Garrett more in the future as I believe we speak the same language in business. I'll be in touch soon. Thanks Garret."
Shane Campbell
Senior Key Account Manager
Austral Bricks
Avoid negotiation deadlocks with our proven approach
When teaching negotiation skills, we adopt the well-researched BATNA (Best Alternative to a Negotiated Agreement) and ZOPA (Zone of Potential Agreement) Model as it delivers a win/win outcome. In the case of BATNA, we teach your people to identify both the buyer's and seller's best alternative. With a BATNA and ZOPA in place, negotiation deadlocks are unlikely to happen.
BATNA and ZOPA in Negotiation   
Does your team establish their BATNA before entering into a negotiation? 
Science-based negotiation skills adapted to your environment
Our negotiation training has its foundations in science – a must for effectiveness – and is customised to your brand, people, sales process and buyers. 
Negotiation skills embedded within your sales process
Effective negotiation cannot be separated from the sales process. Our training ensures the right negotiation skills become an intrinsic part of your sales process.
A structured approach that results in a win/win for all
Our approach to negotiation helps your people reach a mutually benefical agreement – profit for your organisation and a good outcome for the prospect.
KONA's step-by step, structured approach to negotiation training
Rather than simply teach your salespeople how to negotiate, we structure our courses in such a way that the right foundation is established first. Customised to your brand, sales process, people and buyers, our training adopts the following step-by-step formula:
Preparing for the negotiation
Planning the negotation
Negotiation skills using the BATNA & ZOPA Model
Increase your profitability
Owning the negotiation and controlling the approach equals higher profits
Handle common buyer tactics with ease
Develop skills to identify buyer tactics and tailor the approach accordingly
Manage complex, high pressure situations
Instilling the confidence to remain calm and professional in all scenarios
Remove the focus from the price
Teaching the skills to trade across a complex range of concessions, not just price
If speech is silver, silence is golden
The less your salespeople talk in a negotiation, the deeper, more enigmatic and powerful they come across. We will teach you why The Right Proposition + Silence = Success, how it works and effective ways to master the technique. We also offer coaching to refine this powerful, often neglected negotiation tactic.
Small, interactive classes
Onsite or virtual training for up to 15 people.
Course material for future reference
Train and support new recruits and refresh skills and knowledge.
Negotiation Skills Training available Sydney,
Melbourne, Brisbane. Australia-wide. Or online.
Course Outline
| Content Day 1 | Outcomes |
| --- | --- |
| What is Commercial Negotiation? | Delegates will have a clear and concise understanding of what "Commercial Negotiation" Is and how it should be positioned. |
| What is the difference between selling and negotiating?  | Delegates will clearly understand when they should "Tell and Ask" for a deal.  |
| What do we want the outcomes of negotiation to be? | Delegates will know how to set their positions prior to undertaking in any negotiation.  |
| What is the Negotiation journey? | Delegate will know how to take the opposition on a journey to gain a positive result. |
| Where should the balance of power be? | Delegates will learn how to mask insecurity and understand the importance of power and how to harness it. |
| What should be the behaviour and mannerisms of a skilled negotiator? | Delegates will learn about behaviour give-aways in negotiation. |
| How should Skilled negotiator feel? | Delegates will learn how to empathise with the opponent while keeping control. |
| Where does the Power sit in during a negotiation? | Delegates will learn how to keep control while giving the allusion that they are not. |
| What are the Behaviours of a negotiator? | Delegates will learn the power of posture and positioning. |
| Content Day 2 | Outcomes |
| What are your rights and rules during a negotiation? | Delegates will learn how to set and maintain the rights and rules on engagement. |
| How will you deal with pressure during a negotiation? | Delegates will learn how to listen to themselves and develop techniques that will ensure the other party cannot read them. |
| How will you deal with fear and stress during a negotiation? | Delegates will learn about "tells" and "soft exposing give-aways. |
| How will you stay alert during a lengthy negotiation? | Delegates will learn the art of controlled breaks during a negotiation. |
| How will the negotiator recognise when to stop and when to continue on? | Delegates will learn how to recognise the breaking points in their opponent. |
| How will you take the high ground and keep it? | Delegates will learn how to set the scene from the outset. |
| How to recognise the hierarchy of needs? | Delegates will learn how to effectively plan given the needs of the organisation they work for and the opponents organisation. |
| How to effectively plan for a negotiation? | Delegates will learn the importance of planning and the consequence of not planning. |
| How to identify the best location to conduct a negotiation? | Delegates will learn how to identify the different situations that they may need to use different environments. |
How Negotiation Skills Training Improves Sales Closing Rates and Increases Profitability
Whether you are competing for a promotion, seeking a fair deal with a client, or settling a dispute, the ability to negotiate effectively can be a game-changer. Negotiation is an essential skill that passes through every aspect of our lives, from personal relationships to business transactions. Negotiation is a fundamental skill involving communication and compromise to reach agreements that satisfy all parties involved.  
Preparation: Proper preparation is crucial for successful negotiations. Understand your own goals, priorities, and limits, as well as those of the other party. Research the subject matter, potential outcomes, and relevant facts to build a strong foundation. 
Clear Objectives: Define your objectives and priorities before entering a negotiation. Knowing what you want to achieve helps you stay focused and makes it easier to evaluate potential compromises. 

Active Listening: Pay close attention to what the other party is saying and seek to understand their perspective. Active listening helps you identify their interests, concerns, and motivations, which can guide your approach. 

Effective Communication: Clearly articulate your own goals, concerns, and reasoning. Use respectful language and avoid confrontational or aggressive tones that might hinder productive discussion. 

Win-Win Mindset: Strive for solutions that benefit all parties involved. Look for creative solutions and opportunities for mutual gain rather than seeking to "win" at the expense of the other party. 

Flexibility and Adaptability: Be open to adjusting your approach and finding alternatives if the initial proposals are not meeting the needs of both sides. Negotiation often requires compromise and finding middle ground. 

Emotional Intelligence: Emotions can play a significant role in negotiations. Being aware of your own emotions and managing them effectively is important, as is recognizing and addressing the emotions of the other party. 

Building Trust: Trust is essential for productive negotiations. Be honest, reliable, and consistent in your communication. Trust can lead to more open sharing of information and a more collaborative atmosphere. 

Exploring Interests: Dig deeper to understand the underlying interests and motivations of both parties. Sometimes, what appears to be a surface-level disagreement might actually be rooted in deeper concerns. 

BATNA (Best Alternative to a Negotiated Agreement): Know your BATNA, which is your next best option if the negotiation fails. Having a strong BATNA empowers you to negotiate from a position of strength. 

Patience: Negotiations can take time, and rushing can lead to hasty decisions or unsatisfactory outcomes. Practice patience and give the process the time it needs to unfold. 

Cultural Sensitivity: Be mindful of cultural differences that might influence communication styles, negotiation approaches, and decision-making processes. Respect and adapt to these differences as needed. 

Negotiation Styles: Different people have varying negotiation styles. Some are competitive and assertive, while others are more cooperative and collaborative. Understanding and adapting to the style of the other party can improve communication. 

Documenting Agreements: Once an agreement is reached, make sure to document the terms clearly and concisely. This helps prevent misunderstandings and provides a reference point for future actions. 

Negotiation is not solely about getting what you want, but finding a solution that satisfies the interests and needs of all parties involved. By mastering these fundamentals you can become a more effective and successful negotiator.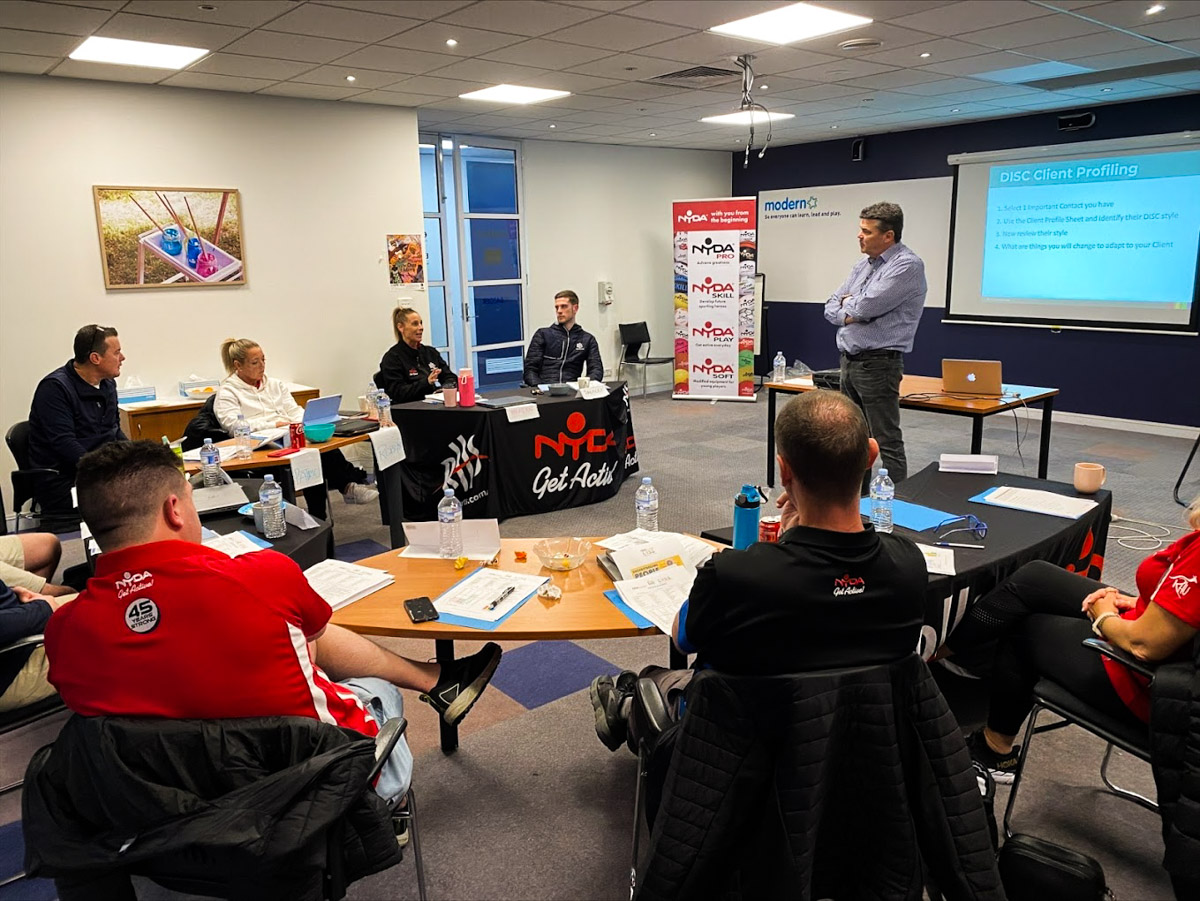 Add DISC Profiling to Negotiation Skills Training
Integrating profiling into negotiation training offers a strategic advantage. By analysing negotiation styles and personalities, participants develop a deeper understanding of their own tendencies and those of counterparts.  
This insight informs tailored negotiation approaches, promoting more effective communication and relationship-building.  
DISC Profiling assists in anticipating opponent's behaviors and adapting strategies accordingly, leading to better outcomes. It aids in identifying common ground and potential trade-offs, enhancing the potential for win-win solutions.  With the KONA delivered DISC personality test, your people will immediately see the relevance of their DISC profile and have the opportunity to practise their newfound insights in a safe, structured environment.
Add DISC Profiling to Negotiation Training