Instructional and Course Design
Is the Quality of Your Organisations Current Training Material at The Right Level?
Virtual Workshops
Achieve an Online Business Education with the KONA Group.
The KONA Group's Online Business Education program develops and customises E-Workshops based on your business' needs and delivers it to you and your team digitally.
By assessment and research, we apply our findings to your personal or team's development needs and tailor the content and virtual delivery to your learning challenges. Some of our most popular training workshops include Sales Training, Key Account Management, Negotiation Training, Contact Centre Training, Customer Service Excellence Training and DISC Profile Training and Facilitation.
To discuss the next steps in tailoring your Online Business Education Program for you or your team, call us on 1300 833 574 or email info@kona.com.au – we welcome your enquiry.
Contact Us
"As Leaders we ask ourselves in hard times can we afford to invest? But the question we should ask ourselves in turbulent times, can we afford not to invest? You need to act now to secure your future pipeline."
Garret Norris
CEO KONA – HBB Group.
You can select from the following E-Training Modules to up skill yourself or team, but you are not limited to the below options, as all our training is tailored, you name it and we will fashion and deliver it – all digitally.
Online Business Education Options:
"I engaged KONA remotely while working in Singapore for video coaching and found it very effective.
I managed a regional team of Sales managers and needed tools to help with the remote management of this team and motivating them to stay focused on sales targets, reporting and communication.
Together we implemented effective measurements, systems and processes to create better transparency and focus."
Sarah Griffin, Sales and Marketing Director Buffalo Tours|Flight Centre (2005 – 2017)
KONA and the HBB Group have formed partnership with the best solution providers to bring a world class tailored workplace learning system online, utilising state-of-the-art microlearning technology and cognitive science to deliver and embed flexible and personalised education for our valued clients.
This is a shared journey to create a future for all parties that is better than any one of us could have developed for our customers alone. The customer influences every aspect of our business and is the foundation of our organisation's success. In today's turbulent times of rapid and chaotic change, "no force is more grounding and stabilising than a partnership with appropriate solution providers to service our customers' needs. The term 'customer partnership' we take not so much in its legal definition of co-ownership but rather in its sense of sharing in benefits of our 20 years' experience of delivering business solutions with your company and your people.
Customer partnership is more than "putting customers first", or finding mutually satisfactory solutions to shared problems, or a dedication to excellence in every delivery or service encounter. It also requires commitment to finding new and innovative ways to help our customers. This facilitates us to continue to forge long-term relationships that create synergies of knowledge, security, and adaptability for both parties.
Our innovative digital learning program is based on a microlearning platform with an emphasis on the proven success of drip-learning, which aims to improve employee knowledge and accelerate performance by embedding and reinforcing important training through spaced learning.
The KONA Virtual Learning Experience
Digital and remote learning experiences need to be delivered through a bespoke real-life journey or storytelling teaching.
With the absence of physical presence and interaction in teaching, virtual education needs to be communicated by narrative delivery, this leads to stronger retention of information and applied learning once the virtual workshop is over.
REALITY: We need to manage our teams remotely.
CHALLENGE: How do you get your employees producing results from home or a remote office?
SOLUTION: Stay close to your team during this time, through Virtual and Remote Training delivered with Real Life Experiences.
HELP: The Online Business Education Program (OBE Program) is a platform for you to learn in your own space. It is a completely digital business development journey tailored to individual and team needs in areas of professional business growth. The program is ongoing after the online delivery, with the workshops also training participants in real-life communication allowing them to apply their learning moving forward to their everyday work, as well as share their acquired knowledge with others, and revise their strategies as their skills develop – all digitally and remotely.
Start your journey to attaining an OBE today! Contact KONA|HBB Group 1300 611 288 or email: info@hbbausgroup.com.au
HOW DOES KONA DELIVER ONLINE TRAINING?
With the REALSolution.
Remote Education ActiveLearning Academy.
The REAL Academy brings the learning to you – in your own space and in real time!
Through the tailoring of a workshop via Skype, ZOOM or MS Teams and a multi-step process, all your bespoke E-Learning is developed, delivered and measured for ongoing education – all online and most importantly, all in the HBB Group way – tailored to you!
The REAL Academy program is run over several weeks and consists of 1.5 hours training sessions, as well as exercises to be completed in-between sessions.
The drip-learning method is the key to sustained learning and education application in the REAL world!
THE
REAL

Academy:

Introduces learners to new information

Identifies knowledge and compliance gaps

Reinforces previously learned knowledge

Embeds knowledge through drip-learning combined with ongoing support in the REAL world
WHAT ARE THE BENEFITS OF THE REAL ACADEMY?
Proving training ROI to the rest of the business
Empowering managers to confidently coach their teams using real-time-data
Improving knowledge retention through spaced repetition of small chunks of learning and active recall techniques
The Identification of Needs is paramount, as this will facilitate the focused learning.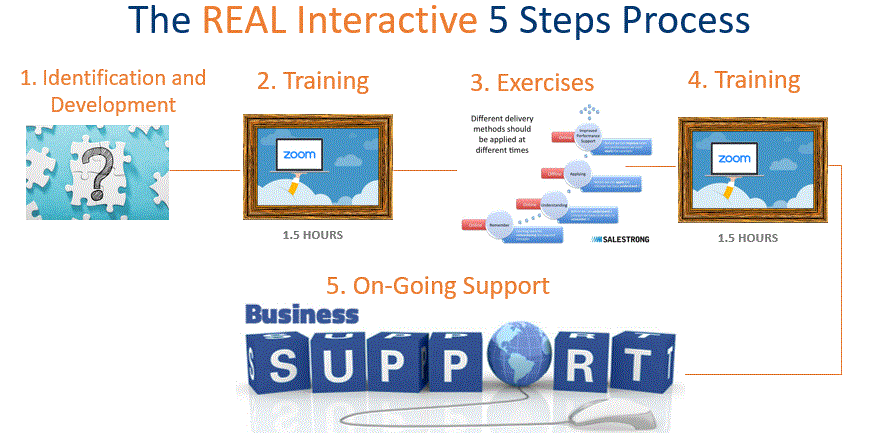 DISC | Online Profiling and Debrief
Remote Personal Development Delivered by an Expert
What is DISC?
DISC is the world's #1 behavioural assessment, taken by millions of people every year and is estimated to be in use by 75% of Fortune 500 companies. DISC is a very simple, yet powerful four-quadrant framework used to articulate the common ways that all human beings tend to behave and communicate.
What Does DISC Measure?
DISC explores the question: HOW do we prefer to behave and communicate?
Unlike some of the more primitive DISC models, our DISC assessments provide feedback on all four behavioural factors to truly capture how we are unique at a behavioural level and avoid pigeonholing people. The 4 core DISC behaviours measured are:
Dominance – How we respond to problems & challenges.
Influence – How we respond to people & contact.
Steadiness – How we respond to pace & consistency.
Compliance – How we respond to procedures & constraints.
Where, When and How long?
You will complete the profile questionnaire on-line from the comfort of your home or office, this will take approximately 20 minutes. When your report is in, we will then book a one hour debrief session using on-line meeting tools such as ZOOM or Microsoft Teams.
Your Investment
One profile and a one hour debrief one to one: $260 + GST
Two profiles and a one hour debrief one to two: $390 + GST
Three profiles and a one hour debrief one to three: $490 + GST
Four profiles and a one hour debrief one to four: $570 + GST
Five profiles and a one hour debrief one to five: $730 + GST
Why?
DISC assessments measure how employees respond to rules, the environment, other people, and problems and challenges. The goal of the assessment is to determine which behavioural traits motivate employees so workplace communication styles can match the motivating factors, for a best fit. Knowing your style will help you determine how you maximise your behaviours and identify behavioural styles in others. This will greatly assist you with:
Leadership
Management
Sales
Negotiation
Team Cohesion
Human Resources
Availability
As we are navigating through new challenges in business, many people are looking to the future. Some are looking at how they may structure teams and others are looking at their next career choice. As such, we are inundated with requests and we will book people as they confirm. If you would like to secure your place, we advise that you book early. Contact KONA on 1300 833 574 or email: info@hbbausgroup.com.au