DISC Profile and Training Solutions
KONA holds internationally recognised DISC accreditation, and is Australia's leading DISC assessment provider. 

Engage with KONA for DISC Profiling to reveal valuable insights into your people's behaviours, preferences, challenges and strengths. 
Let's get started
Customised Training and Consulting
DISC Profiling
Powerful Insights From Your DISC Assessments Reporting
 KONA's DISC Profiling reveals powerful insights into how your staff behave and communicate with their diverse personality styles. 

Apply your DISC training from KONA Group to discover the hidden potential of each individual in your team from their DISC personality tests.

Use DISC assessments guided by your KONA DISC facilitators to build stronger teams. build conflict resolution skills, and equip leadership.



"Garret is a true professional and constantly challenges the norm which creates the high performing teams we have at MLA. Garret has lead and coached our team to deliver outcomes that make a difference. The approach from KONA was unique to our business and it has proven to be successful for MLA. 

I would highly recommend Garret for any other business wanting positive, successful outcomes for your business."  

Lisa Sharp
Chief Marketing Officer
MLA
What is DISC?
DISC is the number 1. personality test used globally.  Over 75% of  the largest companies in the world use the DISC framework to understand why their people behave the way they do, based on 4  behavioural pillars:
  Dominance – How we respond to problems & challenges
  Influence – How we respond to people & contact
  Steadiness – How we respond to pace & consistency
  Compliance – How we respond to procedures & constraints
KONA guides your DISC training from your DISC assessment right through to understanding and applying the valuable insights you've gained.
Everything you need to know about DISC
Australia's Leading DISC Profiling Providers
Many providers overcomplicate DISC profiling. Our solution is intuitive, powerful, backed by neuroscience, and proven to be highly effective.
By assessing team members' personality traits and communication styles, we create well-rounded teams that leverage diverse strengths.
Meet our DISC profiling experts
Customised Training and Consulting
DISC Course Outline
Introduction to DISC:
Overview of the DISC model and its origins.
Explanation of the four main personality traits: Dominance, Influence, Steadiness, and Conscientiousness.
Understanding the Four Personality Styles:
Detailed exploration of each personality style, including behavioural tendencies, communication preferences, and strengths.
Assessment and Profiling:
How to administer DISC assessments.
Interpreting assessment results and creating individual profiles.
Communication Styles: 
Adapting communication strategies based on DISC profiles. 
Enhancing interpersonal relationships through effective communication. 
Team Dynamics: 
Analysing team compositions using DISC profiles. 
Strategies for building cohesive and diverse teams.
Leadership and Management: 

Using DISC insights to lead and manage different personality styles. 
Addressing challenges and conflicts within teams. 
Personal Development: 
Identifying personal strengths and areas for improvement. 
Creating personalised development plans based on DISC insights. 
Conflict Resolution: 

Applying DISC principles to manage and resolve conflicts. 

Strategies for productive conversations and negotiations. 
Application in Sales and Customer Service: 

Using DISC knowledge to adapt sales and customer service approaches. 

Tailoring interactions to meet customers' communication preferences. 
Ethical Considerations: 

Ensuring responsible and respectful use of DISC assessments. 

Addressing potential biases and misconceptions. 
Dynamic trainers with real-world sales experience 
All workshops are facilitated by experienced trainers who have a real-world track record of outstanding sales results and effective team management strategies – based on the same principles and methodologies they teach.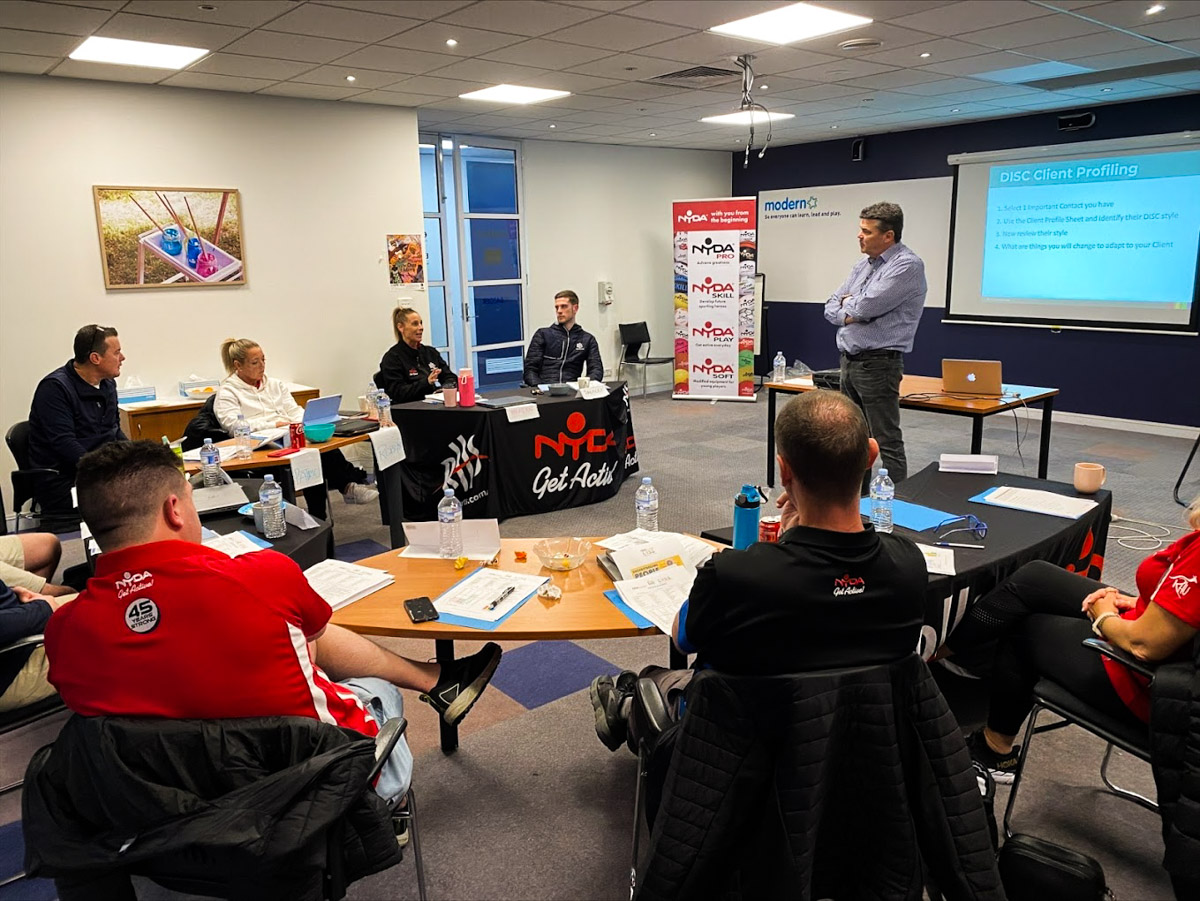 Reveal the Reality Beneath the Exterior
Understanding your people's behavioural styles and preferences is not simply a matter of observing the persona they present. 
Let us show you why DISC is the ultimate 'mirror on the wall' for your people and teams and the immense benefits this clarity delivers.
DISC Behavioural Segments
Everyone typically has a dominant behavioural type. But it's still a combination of the four styles that provides a more comprehensive answer to explain how we truly behave.
96% of all people are a combination of all four behavioural styles. It's the unique combination of the four styles that creates behaviour unique to each person.