We cannot ignore the fact that COVID-19 has had a serious impact on the Australian economy. This has resulted in many business leaders enduring sleepless nights and scratching their heads over the current and future impact of this pandemic on their business. But it is important to remember that the situation is entirely out of our control – everyone's in the same boat. What
is
in your control however, as a Leader, is:
How your business recovers
What actions you take
How you get your team back on target
What outlook you hold
What strategic plans you have in place
What you are going to do to increase momentum
HAVE YOU THOUGHT OF HITTING THE RESET BUTTON ON YOUR BUSINESS?
For many of us, we may have issues about "coming back to the office", or getting back on target, or concerns about our people being out of the physical hunt for results for too long, or simply – achieving ROI. Soon the pace of pre-COVID days will return, do you have actions in place for when we all can come together again? Have you considered:
How you are going to build a culture of performance?
How you will instil a mindset of positive thinking?
How to get results from your team?
How to re-frame your team's conversations around the future?
How to React, Restore, Reset your business and people?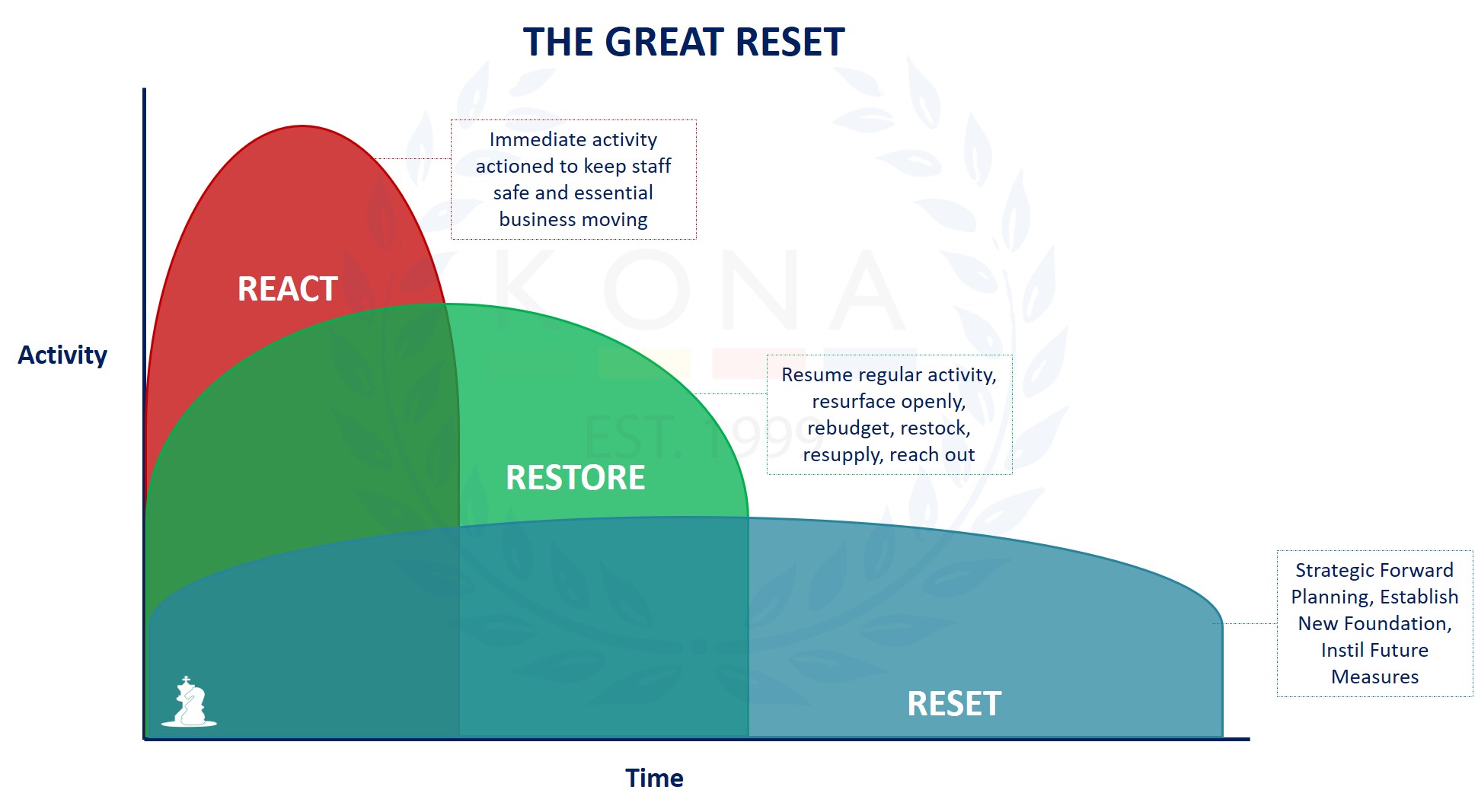 To find out more contact the KONA Group 1300 611 288 | info@kona.com.au
Have you considered a positive movement of encouragement and support for your team on their return – recognition of coming together when we can come together?
But how? How, as a forward-thinking Leader, do I encourage and support the return of my staff?
The strongest way to support your staff and show them self-worth with a definite ROI, is through instilling a positive mindset – that is the gift that keeps on giving.
At the KONA Group we know the value and the power of Motivational Speaking. We can assist you in any capacity to harness positive thinking, spread its powers and skyrocket productivity as a direct result. All our exceptional Motivational Speakers have great stories behind them, their teachings come from walking the pavement of life, the words come from experiences not textbooks. Come on a journey with one of our team. Here is a snippet of one of our Senior team and the founder of the KONA Group.
10 years ago this week the 60-year-old inspiration climbed into the boxing ring with ex-Heavyweight Boxing Champion of Australia John Hopoate all in the name of raising funds for very worthy Breast Cancer patients. Glenn also ran across the Sahara Dessert for the same cause, AND – completed the Hawaiian Ironman in KONA. Oh, and did we mention earlier this year he became the world's oldest CAGE FIGHTER?! His physical stamina is nothing compared to his mental strength – Glenn has built an outstanding reputation as a Personal Mentor, helping individuals of all ages to achieve goals they never thought possible. He is a specialist Business, Health and Sport Mentor.
To find out more contact the KONA Group 1300 611 288 | info@kona.com.au
And there are many more like Glenn for you to meet:
kona.com.au/meet-the-team/
Everyone has a story and every story can be transformed to lead to positive outcomes. Hit the reset button on your business, engage one of our modern Motivational Speakers and bring out the best in your team and business. We did.
To learn how to RESET YOUR BUSINESS or book in your team's MOTIVATIONAL SPEAKER, contact

 
KONA: 
1300 611 288
 | 
info@kona.com.au
 for a confidential conversation today.