Psychological Profiling Tools Explained.
WHAT IS THE WORKPLACE MOTIVATORS PROFILE? The most powerful motivation comes from within — from our core values. Yet, very few people can articulate their own values or are aware that all values can be traced back to half a dozen primary "motivators". The WPMOT assessment provides us with a model to better understand and unlock the power behind these personal motivators. It's the perfect tool to truly understand your team of key account managers or sales force and what makes them tick.
WHAT DOES WPMOT MEASURE? Workplace Motivators® explores the question: WHY do we move into action? A motivator (or value) is a cluster of beliefs with a similar underlying pattern or idea that we believe to be fundamentally important. Our primary motivators help determine what gives us joy, happiness, energy and purpose — at work and in life. Our strongest motivators provide us with a continuous source of motivation to seek out their fulfilment. They are also the source of dissatisfaction when they are violated or ignored. When it comes to business partnerships, just as it does with dating and falling in love, people can overcome basic behavioural (DISC) differences, but values are the thing that will make or break a relationship. THE WORKPLACE MOTIVATORS REPORT The Workplace Motivators® profile is a 14-page report. It takes you a step beyond the standard behavioural assessment to dive deeper into the world of personal values. The 6 core Motivators measured are:
Theoretical – A drive for knowledge and learning.
Utilitarian – A drive for practicality, value and ROI.
Aesthetic – A drive for beauty and creative expression.
Social – A drive for compassion and helping others.
Individualistic – A drive for uniqueness, status and to lead.
Traditional – A drive for unity, order and a system for living.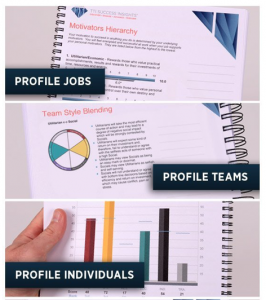 The Workplace Motivators® also includes feedback on what a person should try to avoid based on his or her motivators. TTI's brain-based research confirms that this has a deep subconscious impact on our decision making. VERSIONS OF THE WORKPLACE MOTIVATORS PROFILE The Workplace Motivators® reports are available in a number of versions, each designed to support your initiatives and help you achieve your desired results. All of our tools have been designed with flexibility, practicality, and multiple uses in mind. This means you can invest once in the right profile and use it throughout the employee life cycle to maximise your investment. There are three types of reports in the TTI Success Insights® Motivators series, including:
WPMOT Job Profiles – Providing a validated way to profile the unique positions in any business and determine the "ideal" motivators of a superior performer. We refer to this as "Position Benchmarking".
WPMOT Coaching and Development Reports – These reports have been designed to comprehensively explore a person's personal motivators. Each report includes both personalised content as well as graphs for deeper interpretation.
WPMOT Team Reports – A report designed to explore the values of a group or team. Using the TTI Success Insights® Motivators Wheel, this report places up to 20 people into a single report to better understand what motivates the group as a collective.
Download a sample WPMOT Report
Sample – Motivators
. Please contact us on 1300 611 288 or email info@kona.com.au to learn more about our suite of corporate psychological profiling tools.