Psychological Profiling Tools Explained
What is an Emotional Intelligence or EQ Profile?
Emotional intelligence is the ability to sense, understand, and effectively apply emotions to be more collaborative and productive with others.
Successful leaders and superior performers tend to have superb emotional intelligence skills. The most intriguing aspect of emotional intelligence is that it is not fixed. With a little hard work and some ambition, emotional intelligence can be developed over time.
Emotional intelligence (EI) is considered to be one of the most desirable characteristics in a leader. One study found that individuals with high EI could be 40% to 122% more effective in positions involving influencing, managing, negotiating and/or serving others.
Our Emotional Intelligence EQ Reports provides a simple model for people to understand and develop emotional intelligence.
The Basics
Emotional intelligence is composed of five distinct factors:
Self-Awareness
The ability to recognise and understand our moods, emotions and drives as well as their effect on others.
(Goleman Definition – knowing your internal states, preferences, resources and intuitions)
Emotional Awareness – Recognising your emotions and their effects.
Accurate self-assessment – Knowing your strengths and limits.
Self-confidence – A strong sense of your self worth and capabilities.
Self-Regulation
The ability to control or redirect disruptive impulses and moods and the propensity to suspend judgement and think before acting.
(Goleman Definition – Managing your internal states, impulses and resources)
Self-control – Keeping disruptive emotions and impulses in check.
Trustworthiness – Maintaining standards of honesty and integrity.
Conscientiousness – Taking responsibility for personal performance.
Adaptability – Maintaining personal flexibility and adapting to change.
Innovation – Remaining comfortable with novel ideas, approaches and new information.
Motivation
A passion to work for reasons that go beyond money and status, and a propensity to pursue goals with energy and persistence.
(Goleman Definition – Emotional tendencies that guide or facilitate reaching goals)
Achievement drive – Striving to improve or meet a standard of excellence.
Commitment – Aligning with the goals of group or organisation.
Initiative – Readiness to act on opportunities.
Optimism – Persistence in pursuing goals despite obstacles and setbacks.
Social Awareness
The ability to understand the emotional makeup of other people.
(Goleman Definition – Awareness of others' feelings, needs and concerns)
Understanding others – Sensing others' feelings and perspectives and taking an active interest in their concerns.
Developing others – Sensing others' development needs to bolster their abilities.
Service orientation – Anticipation and recognising the needs of others.
Leveraging diversity – recognising opportunities with and through different kinds of people.
Political awareness – Reading a group's emotional currents and power relationships.
Social Regulation
The ability to proficiently manage relationships and build networks.
(Goleman Definition – Adeptness at inducing desirable responses in others)
Influence – Wielding effective tactics for persuasion.
Communication – Listening openly and sending convincing messages.
Conflict management – Negotiating and dissolving disagreements.
Leadership – Inspiring and guiding individuals and groups.
Change catalyst – Initiating or managing change with others.
Building bonds – Nurturing instrumental relationships and networks.
Collaboration and cooperation – Working with others toward shared goals.
Team capability – Creating group synergy in pursuing collective goals.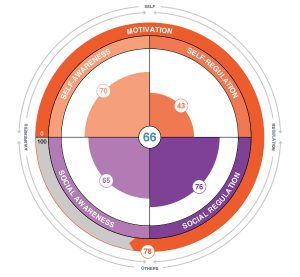 How to Understand Your Emotional Intelligence EQ Report
Our first reaction to any stimulus is an emotional one. These emotions can both colour and distort our thinking and decision making. Our ability to recognise and manage our emotions is Emotional Intelligence at work ‐ and this is where your Emotional Quotient Report will point you in the right direction.
Emotional Intelligence has been said to be the fundamental difference in superior decision making and performance.
Your Emotional Quotient Report has been designed to give you an overview of your Emotional Intelligence based on the 5 fundamental pillars of Emotional Intelligence. One of the greatest things about Emotional Intelligence is that it can be cultivated and developed. The hallmark of superior performers is that they reflect on their experiences and interactions and search for ways to become more effective.
Understanding the Reality and Power of Emotional Intelligence: perhaps the best definition is "Advanced Common Sense.
It is now clearly understood that decisions and actions are based on a blend of emotion and logic, and that the idea of a pure "logical" decision is misleading.
Emotions and the roles they play in decision making, problem solving, communication and behaviour are both necessary and vital to understand. We recommend that you read through your report with the above information in mind. It is important to reflect on the feedback in the report and think about any practical examples you may be able to apply.
Regardless of your scores and the feedback provided by the report you are presented with a wonderful opportunity to go to work on improving your Emotional Intelligence, thus improving your ability to become a superior performer who makes superior decisions.
Our Emotional Quotient™ or EQ report is available as a 13-page coaching and development report that has been designed to present emotional intelligence in a simple and effective model that can be applied immediately.
The EQ Profile is commonly used in the following functions:

Training and Development:
Leadership Development
Communication Effectiveness
Team Effectiveness
Sales Development
Customer Service Training
Coaching/Mentoring Relationships
Strategy and Management:
Change Management
Conflict Resolution
Culture/Transformation
Personal:
Personal Effectiveness
Family Relationships
Marriage Counselling
Career Planning
Download a free sample EQ Report Profile Sample+-+Emotional+Quotient.
If you looking to get yourself or team profiled, please contact us on 1300 611 288.
(FREE E-BOOK) 10 Ways to Increase EQ – KONA eBook
10 WAYS TO INCREASE YOUR EMOTIONAL INTELLIGENCE
This e-Book makes a handy companion guide to go with an individual's Emotional Quotient profile. At 14 pages, the e-Book briefly summarises the concept of emotional intelligence and explores 10 widely applicable techniques to start improving your EQ straight away.
---