Here is Part 2 of our Top 13 Sales Methodologies used by successful sales teams today.
Continuing where we left off from Part 1 of our Top 13 Sales Methodologies
8. MEDDIC
MEDDIC is a qualification process for complex and enterprise sales. The acronym stands for Metrics, Economic buyer, Decision criteria, Decision process, Identify pain, Champion. This methodology suggests, thst to get answers, you need to ask your prospect the six MEDDIC questions:
Metrics: What's the economic impact of the situation?
Economic buyer: Who controls the appropriate budget?
Decision criteria: What are the formal evaluation criteria the organization is using to pick a vendor?
Decision process: How will the organization pick a vendor? What are the specific stages?
Identify pain: What are the trigger events and financial consequences of the problem?
Champion: Who is selling on your behalf?
9. CHALLENGER SALE
The Challenger Sales model was developed in 2011 as a response to customers entering sales situations with more information than in previous years. Rather than trying to build relationships with prospects, this sales methodology encourages sales reps to take control of the sales process.
According to Matthew Dixon and Brent Adamson, authors of The Challenger Sale: How To Take Control of the Customer Conversation, there are five primary types of salespeople, the:
Hard Worker: consistently gives 110 percent, loves development, easily motivated.
Relationship Builder: gets along with everyone and builds excellent customer relationships.
Lone Wolf: extremely independent, likely to follow their gut before the rules.
Problem Solver: always reliable and detail-oriented.
Challenger: enjoys debate and pushes the customer out of their comfort zone.
Challengers succeed by understanding the customer's business well enough to point out flaws. Then they create doubt – to be able to offer an alternative solution. It's not a traditional tactic. But a good Challenger is typically successful at closing deals by using debate rather than persuasion.
Over 50% of top complex sellers either fit the Challenger profile or use the Challenger Sales method. Like any sales methodology, its success lies in understanding the current psychology of the consumer market. And also how customers are approaching their purchases.
Crucially, the Challenger Sales methodology is a transition from pitch-based selling to educational selling. Rather than pitching a specific product, a Challenger will respond to client needs. They will then analyse those needs. And finally present a solution the client may not have considered.
10. INBOUND SELLING
Inbound selling is a sales methodology that focuses on monitoring qualified leads through the buyer's journey. That is, learning the buyer's needs through targeted research, and meeting them with a personalised proposal at precisely the time they're most primed for a salesperson's input.
Additionally, inbound selling is a really effective sales approach for modern buyers. It is contrary to outbound sales, which involves a lot of cold-calling and impersonal sales pitches. Inbound marketing and sales is a customer-centric approach that focuses on:
Effective prospecting
Attracting leads by creating and sharing valuable content
Framing the offer around the individual buyer's needs
Fundamentally, inbound selling is about tailoring your messaging to attract and nurture the most qualified leads for your offer. Inbound salespeople know that it's counterproductive to rush the buying decision, Instead, they monitor potential buyers' activity (through social media or LinkedIn, for example).
They then go on to guide them through a buying process only when they indicate they're ready for input. Timing in inbound selling is crucial. Brian Signorelli, a well-known sales specialist calls this "changing the way you sell to match how people buy."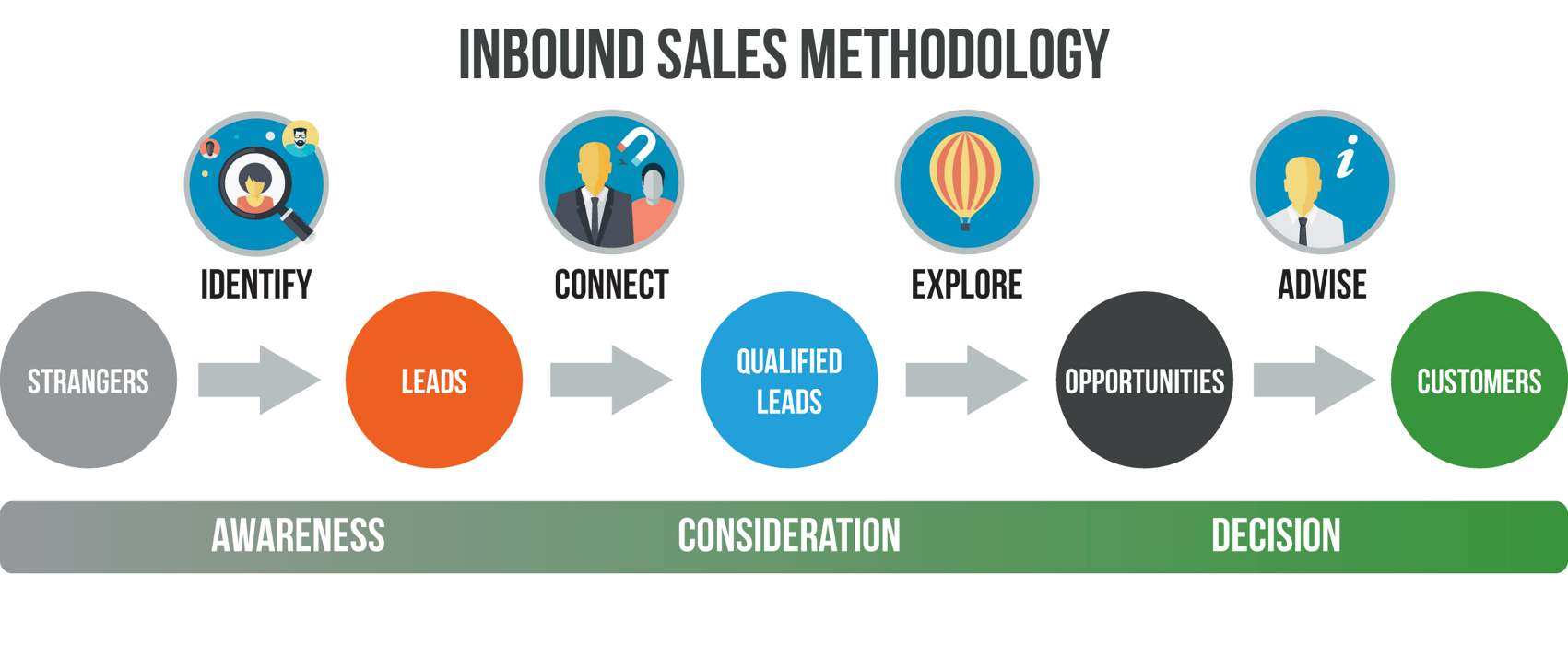 11. THE SANDLER SYSTEM
Sandler sales methodology has a lengthy past of more than 50 years. In this model, the typical sales process is extended to a certain extent. Sandler sales methodology advises salespeople to act as a consultant rather than a "typical salesperson".
The focus is on convincing the prospect. A salesperson will focus more on the closing stage of the sales process, whereas the Sandler salesperson will concentrate most of their energy on the qualification process.
In the Sandler sales model, the seller and buyer both will be equally invested in the selling process. This methodology is divided into 7 steps which differ from a usual 5-step sales process.
Bonding and Rapport
Up-front Contracts
Pain
Budget
Decision
Fulfillment
Post-Sell
12. TARGET ACCOUNT SELLING
Pareto's Principle says that 80% of your sales can be attributed to 20% of your customers. Similarly, 80% of your revenue can be attributed to 20% of your effort (or time).
Therefore, if you're taking a scattergun approach to selling and just trying to get as many customers as possible through your door, you're wasting a lot of time. As well as energy and effort on small accounts that aren't going to ramp your sales. With target account selling – you focus efforts on potential clients who are most likely to convert into high-revenue accounts.
Your most productive customers are your most complex. They may have longer sales cycles, but when they make a purchase it's far larger. Instead of making a sale for $10,000, the sale will make you $100,000.
Selling to this type of customer takes more planning. You must know who you are targeting. And then, develop close relationships with them. You must be patient. Treat them as a partner rather than a commodity.
Target account selling methodology can only be successful with a concerted effort that brings marketing, sales, and customer outcomes into alignment.
You'll need to research accounts. But also, put in place targeted marketing campaigns and communicate regularly and often with your clients. Plus also offer great after-sales support.
13. HEARTS & MINDS

™
For more than two decades the KONA Group has been helping organisations solve the People and Performance issues of Leaders, Sales Managers, and Sales People, that are limiting their business outcomes and growth.
The Hearts & Minds™ Sales Process is a Sales Methodology that has been developed by the KONA Group to ensure your organisation's Sales People and Sales Managers become your most strategic advantage, developing leverage above and beyond your competition. 
To distinguish your offering to the market, your Sales People, and Managers, must seek to influence your customer's business and wherever possible become Strategic Partners, which focusses on bringing wide-ranging benefits to both businesses.
Your service/ product range will not necessarily be 'the end', despite an excellent service/product offering. In many cases your services/products will become a means to an end, forming a part of a much more significant relationship.
To achieve this goal your Sales People will need to truly understand:
The ambitions of your Strategic Partners

The issues they face in the pursuit of those ambitions

Their strengths and their weaknesses

And within all of this, the opportunities you have for adding significant value that they will considered to be a genuine part of their own business.



Ultimately this will require all Sales People and Sales Managers to 'Win the Hearts AND Minds' of your existing and potential partners.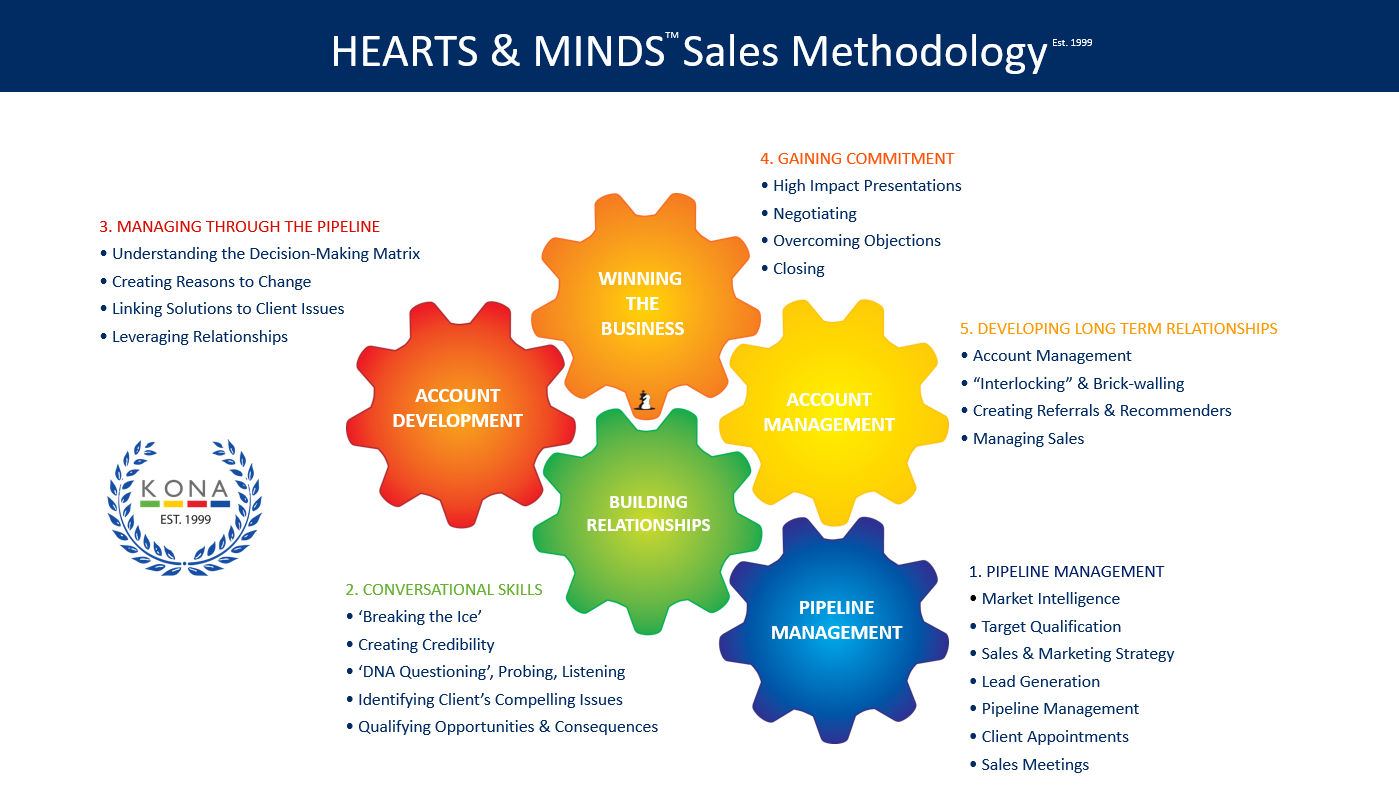 Gather the team and we will take care of the rest.
Call us at KONA on 1300 611 288 for a conversation, or email info@kona.com.au anytime.