Research has proven two crucial Sales factors. Firstly, it is seven times less costly to keep a client than it is to win a new one. And secondly, it takes a minimum of 9 'touch points', or brand recognition, to develop a relationship.
And during this pandemic-era it is has never been more vital to stay Front of Mind with your clients and prospects, through frequent, quality communication and Digital Marketing.
Note the focus on 'Quality' rather than' Quantity'. As organisations have realised (some too late) that with Digital or Online Marketing any information sent out must be targeted to the specific audience and not "white noise".
THE MESSAGE
Smart businesses are communicating with their clients and prospects by using web-based CRMs (Customer Relationship Management) systems or communication tracking tools to stay Front of Mind.
Staying Front of Mind in Sales is core in building the all-important pipeline. We have developed four methods you can connect with your customers and inform them constantly about your business. And please understand, while none of the following four points are new, the question is how often and how well does your organisation do it?
1. ONLINE EMOTIONAL CONTRACTING
Online Emotional Contracting is about utilising the social platforms available to interact with your whole database at once, to stay, Front of Mind.
LinkedIn, Facebook, and Twitter are all extraordinary online networking tools and depending on your type of business (B2B; B2C; Channel; Enterprise etc) a robust approach to turn your prospects into clients, as well as keep your current clients informed. But have you considered the message your profile or your team's profile is sending? Could your Sales team – and business – benefit from Crucial LinkedIn Training? What does their profile reflect about them and the company?
This will help you improve your products or service offering which will eventually help you maintain your clients, and stay Front of Mind.
2. THE EDM APPROACH
EDMs (Electronic Direct Mails) promoting through an e-newsletter sent out daily, weekly or monthly is very effective. Critics may label the EDM Approach as "annoying", but the results from Front of Mind Branding speaks for itself.
Auto-responders (which are particular email promoting messages that are composed ahead of time and sent to subscribers on particular days) can additionally be customised in email marketing just to make sure that your clients receives the information the moment they need it.
3. SMS TEXTS
With your clients' permission, you can get in touch with them utilising quick updates and messages to their mobile phones. If they have joined your database you can also utilise SMS to send specials, coupons, openings or appointments.
A good example of how SMS updates can grow your business, retain clients and remain Front of Mind is one of Queensland's top Smash Repairers. This forward thinking company sends an SMS update to their clients at each stage of the car's repair process! Clever. This keeps their clients informed and engaged and feeling part of the process – a huge benefit away from the Industry Customer Service levels of years gone by!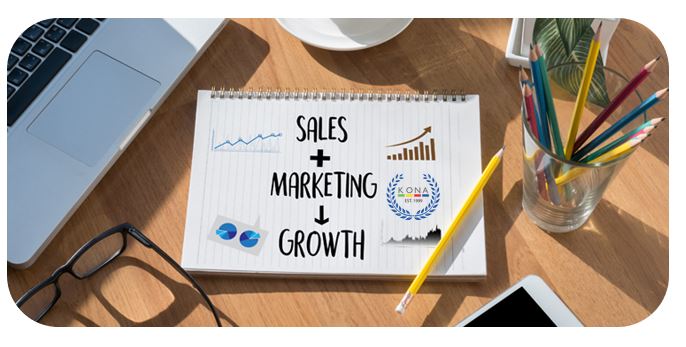 4. OCCASION MARKETING
An incredible approach to inviting people to a virtual gathering or event is to send an online message to clients.
A smart business uses the available technology to identify their client's needs and how to respond to them appropriately as they realise that by keeping in regular contact with their clients can make them an invaluable resource. If not clients and customers will switch to other businesses that offers what they require. You need to stay front of mind, even during uncertain times.
To learn more about how the Sales and Marketing Training and Coaching Specialists at the KONA Group can help increase your leads and client base through Digital Marketing, contact KONA today on 1300 611 288 | info@kona.com.au for a confidential conversation.