By 
Garret Norris
, 
Sales Training
 & Negotiation
Specialist.
In last week's
part 1
,  we stressed that no matter what business you are in, what has worked well in the past just isn't good enough today Sales people and managers who put their head in the sand and say "We have always done it this way", or "my customers are different" are going to be replaced by professional sales people who are always looking for ways to improve their client's businesses, not just sell more product So here is Part 2 of some basic
sales management
steps you can take to
improve your sales team's performance
and implement a solid
Sales Training
program that will ensure your growth (or survival) and reduce your costs of selling.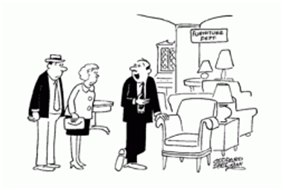 It's not only made well – but it's just uncomfortable enough to become an antique.
6. Ask, listen, and act. 
Better than any others, these three words summarise success in sales and your
sales coaching
must always reinforce them
Your questions must be creative, planned, relevant, and interesting.
Your listening skills must be highly developed and focused on your customer, rather than thinking about the next question you will ask
You must respond to key words in the customer's sentences and take action that proves that you listened to the customer and want to help them.
7.
Take the responsibility but not the credit
. 
Realise that as
sales manager
your people look to you for direction and coaching, not for you to claim the spotlight To build a strong team willing to go the extra mile when you need it, give your team the credit for everything that goes right, and take the blame when it goes wrong. Protect your people from above but hold them accountable for the performance.
8.
Work on the basics. 
Even the best of the best have room for improvement so make a decision to improve your weaknesses and set Sales Pipeline goals to force yourself to do the things you don't like to do. Be creative in your prospecting, fact finding, and presentation skills and set new standards by imagine the perfect salesperson and comparing yourself to them.
9.
Develop your attitude
. 
Your attitude is controllable so change the beliefs that limit your success. Your thought habits control your commitment, enthusiasm, persistence, resilience, happiness, and confidence. So be aware of them, decide which ones are unproductive, and then make a commitment to change.
10.
Maximise your time
. 
Focus on your goals and set daily activity KPIs for short and long term importance and urgency. Create a weekly sales schedule and manage your time against it daily. If you are behind target introduce weekly
Power Hours
to drive activity that creates results
Remember, just one hour a day used more productively adds up to more than six extra weeks of productive time a year.
Going forward:
Garret Norris
 is KONA Group's
Sales Training
&
Negotiation
 Specialist so to discuss how 
Garret
 can improve your sales results please contact him today on 
1300 611 288
 or 
info@KONA.com.au
---
For Tips 1 – 5 please read
Part 1
of Garret's blog at