When you think of your Sales Team's Performance Which of These Sales Issues Do They Demonstrate:
Lack conviction when pitching their sales offer, and find it difficult to overcome their prospect's defences in order to build rapport and have an engaging and mutually beneficial sales conversation
Don't consistently keep their Sales Pipeline full and active, and blame other people and circumstances instead of accepting personal responsibility for the lack of activity
They feel confident with the technical features, facts and figures, but lack the confidence to highlight the prospect's problem and bring their solution and product benefits to life
Need to develop their competencies around building trust, empathy, and increasing their overall emotional intelligence
Lack the skills and techniques needed to integrate storytelling into all areas of their communication with prospects and clients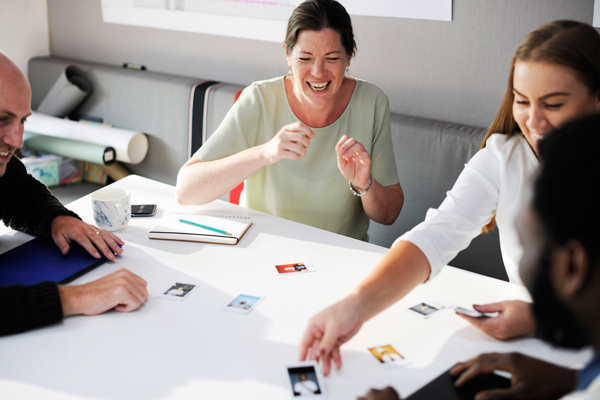 How can you empower your sales team to create more genuine and emotional connection with prospects that converts more opportunities into sales?
Simple: Empower them with the skills to use more stories in their conversations.
To be an exceptional salesperson in today's marketplace requires more than a solid understanding of product knowledge and data; you also need the ability to wrap the data in relevant stories in order to bring more genuine emotion, trust, and connection into the process.
The Storytelling For Sales training workshop is designed to equip your team members in how to use storytelling as a communication tool in each key part of the sales process:
In their face to face and telephone conversations.
In their pitch & presentations.
In their follow-up activities.
In their new client communications.
In sourcing referrals and introductions from satisfied clients.
The customised workshop will also explore how participants can use the classic storytelling framework, 'the hero's journey', to frame the entire sales process and learn methods on how to identify with their prospects and clients with more authenticity, develop their emotional intelligence to create greater empathy and genuine connections.
The workshop will equip your sales team to:
understand the science behind storytelling as a powerful communication tool.
identify key points in the sales process where stories can be used effectively.
learn a simple to implement process for identifying stories, how to ensure they have a purpose for the prospect, and how to share them authentically and with confidence.
a framework to increase motivation, commitment, and consistency in their follow-up activities.
create and practice ready-to-use stories specific to your business's current products and services.
NOTE: KONA customise every Sales Training and Sales Management Training program to our client's business and teams.
We do not run generic, off the shelf, 'by the manual' sales training courses, delivered by theoretical trainers or academics.
So if you need to increase your sales, profits and performance contact Garret Norris today on 1300 611 288 or email info@KONA.com.au.
Storytelling is often thought of as a marketing thing, but it's really a human thing. It's the way humans have communicated and made sense of information for thousands of generations.
Learning through stories, developing trust through stories, and making decisions through stories is a natural part of our DNA.
At its fundamental core, sales is not B2B or B2C, it's really H2H—Human to Human.
We're not robots, and even if we 'think' we are rational beings, the research shows 90% of decisions actually take place based on our emotions.
We live in a world of rapid growth in the accumulation of data, but without a solid skill-set and confidence to use storytelling within your business dealings, the risk becomes that the growing data leads to a growing disconnect and misunderstandings with clients and co-workers alike.
The facts and figures might make rational sense, but it's through emotions that decisions are made. Numbers matter, but a compelling narrative that creates an emotional connection matters more.
So make a difference to your sales results and contact Garret Norris today on 1300 611 288 or email info@KONA.com.au.
Call: 1300 611 288 | SMS: 0481 965 405 | Email: info@kona.com.au
SYDNEY
Phillips Street.
Neutral Bay NSW.
Australia 2089.
MELBOURNE
Suite 1 | 432 Smith Street,
Collingwood Victoria.
Australia 3066.
CENTRAL COAST
Empire Bay Drive
Kincumber, NSW
Australia 2251.
LONDON
Suite 1 | 2 Gipsy Hill,
London, SE19 1NL.
United Kingdom.
We cover all States Australia wide including Sydney, Melbourne, Brisbane, Perth, Adelaide and Hobart.
Contact Us Now or Call 1300 833 574