Advanced Sales Training Experts
KONA Customised Sales Training
Which of the Top 10 Sales Issues Keeps You Awake at Night When You Think of Your Salespeople?
Missing KPIs too often
Business comes from existing "friendly" customers or clients only
Don't prospect, or generate enough fresh leads
Don't do enough Quality Sales Activity
Uncomfortable speaking with Decision Makers in Leadership or Senior Management positions
Only comfortable talking about Problems, Price and Product specs
Miss opportunities in their Pipeline due to not chasing or revisiting leads consistently
Have a low Lead to Sale Conversion Ratio
Don't generate enough repeat business from clients
Blame the market, products or services, customers, accounts, their managers, the price of petrol when they miss target as "it's not my fault".
HOPE IS NOT A SALES STRATEGY
The KONA | HBB Group is a global sales consulting and sales training company, that helps organisations reach sales potential by answering the following questions:
What makes a top-performing sales team?
What drives buyers to choose one provider over another?
What's the best way to approach sales training so it leads to real performance improvement?
We address the sales performance requirements of clients across a broad range of dynamic sectors. We help organisations to differentiate themselves in the sales process through bringing value to the table in a way that traditional selling methods miss.
We help:
Organisations with everything from prospecting to networking and relationship building to core and advanced consultative selling (Hearts and Minds Selling) to key account management, negotiation, sales management, and opportunity management.
Your team must bring value to the table by sharing new ideas and perspectives and collaborating with customers and prospects in the sales process.
Sales leaders untap revenue growth potential, organise for growth, find and develop the right people, and enable them to succeed.
Over the past two decades, The KONA Group has grown into a recognised leader in sales improvement with an international client base. We've helped hundreds of thousands of salespeople, managers, and professionals in Australia, across APAC increase their sales significantly with our sales training, and sales management services.
Why use a Sales Trainer?
At the KONA Group we've worked with sales people of all levels for over 20 years. We've taken that expertise and used it to shape sales training solutions in to suit everyone, from graduates all the way through to team managers. So, whether you're new to sales looking to improve your skill or experience sales leaders who need to update your skills or a decision maker looking to upskill a whole team, we have a solution.
The KONA Sales Academy has been developed into 12 specific areas and topics. However, rarely our clients choose a module as a standalone solution. We offer tailored training suited to your company's individual needs. We will work with you to help you choose the appropriate topics to meet your objectives and we will create a module just for you.
Our tailored sales training solutions allow us to assess your sales operations and design a course to suit your individual needs. Once we understand exactly what you need, we can get to work on providing you with excellent training that gets you some serious results.
HOW THE TRAINING PROCESS WORKS
A.C.T.C. Recommended Development Process
The KONA|HBB Group does not run 'off the shelf, by the book', generic, training courses and every program will be developed around your business.
This 4-phase approach includes:
1. ASSESSMENT
The Assessment phase is where we would spend time with you and your team:
To understand and integrate your current training and coaching methodologies.
To get a better understanding of your Vision and Strategic Objectives.
Sales and Negotiation Strategy; and Coaching Capability.
To understand the wider team's commitment to coaching plus how they implement your businesses sales process and customer management and account planning.
Should you wish, this can include us going out on the road observing your people in action which is highly recommended.
2. CUSTOMISATION
In conjunction with you, the Customisation phase is to tailor the appropriate Training and Coaching workshops and methodologies that will reinforce all the current in-house training and development.
This will include:
Roll out and logistics
Worksheets
Exercises
PowerPoint slides branded as your organisation
Coaching manuals
3. TRAINING
Training workshops will be focused on increasing the skills and capabilities of your people and the introduction of knowledge and methodologies to teach staff how to read people and improve performance in front of customers.
We will focus on your team continually reinforcing your brand quality, especially in the face of alternative solutions.
The workshops will be practical and hands on, rather than theoretical presentations, with you playing an integral part of developing and forming the strategy, this will strengthen the team respect and drive.
4. COACHING
The Coaching phase is critical. It is where we reinforce and embed the new skills and behaviours. The Coaching phase ensures the transition from 'Theoretical' to 'Practical' application of the newly acquired knowledge and skills.
We achieve optimum results through our proven method of kinaesthetic learning – that way, your people won't revert back to their old, comfortable habits!
HOW WILL YOUR MANAGERS KEEP THE LEARNING FRONT OF MIND?
The Managers Coaching Program post workshops
We will begin by engaging managers at the very start of the development.
With the Managers Coaching Program the focus will be on developing Managers skills and behaviours to mentor one another and develop the performance of their team.
HEARTS AND MINDS SELLING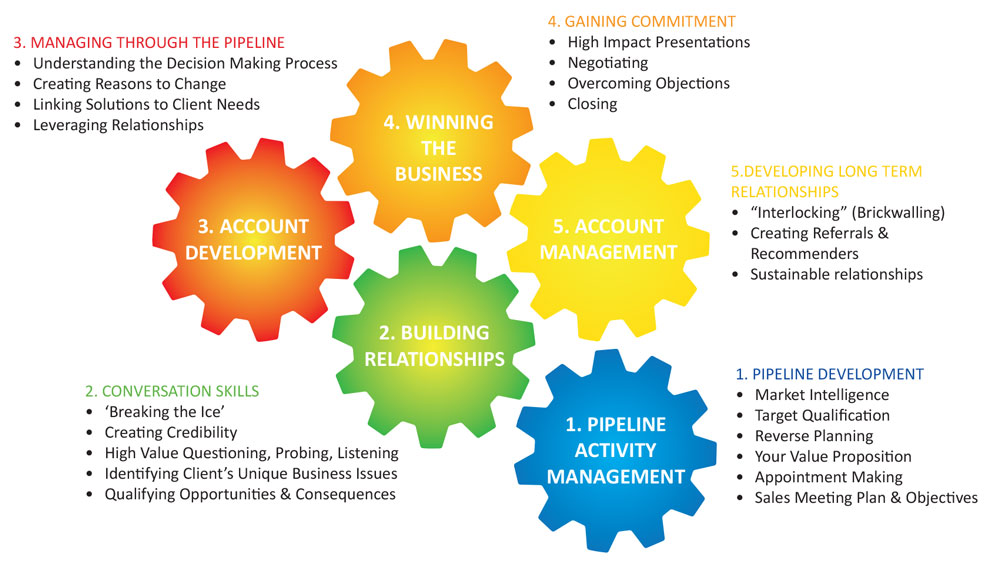 Based on key components of the Hearts and Minds™ methodology we will introduce a range of tools and skills to the team aimed at achieving the outcomes required to upskill your team.
These may include but not limited to:
How to Plan their activity to ensure a positive negotiation is always at the fore.
Adapt their negotiation skills to be more relevant to the customer's expectations of what Value Adding means.
Structure a F2F negotiations to ask a different type of commercially oriented business questions, to understand their customer's business needs.
Have the skills and confidence to discuss what "keeps their customers awake at night" and overall Business Issues.
Increase confidence to ask business questions they don't know the answers to.
Be able to speak about the customer's future and strategies, rather than just today's needs and projects.
How to 'brick-wall' their current customers to increase relationships, purchases, and defend from the competition.
How to Negotiate your companies Value Proposition and service levels to the customer's business needs.
How to overcome objections and have "hard conversations"
How to close the sale
How to cold call
How to get past the "gate keeper"
WHAT LEVEL OF A SALES PROFESSIONAL IS YOUR TEAM?
ARE THEY
ORDER TAKERS

OR

STRATEGIC PARTNERS

?
To find out more about any of our sales training programs and how we can help to turn your team into the sales professional you need to succeed, please complete the form below.
KONA Customise Sales Training Programs to YOUR business and market that will develop your Salespeople to be able to:
Refine prospecting skills and create new business instantly
Establish solid customer/client rapport at all levels of business
Develop essential tools to build a Robust Pipeline of future sales
Reform current time management plan to increase productivity and results
Optimise the ROI from each sales meeting
Develop Questioning and Listening skills to understand the genuine needs of your customer or client, not just present product or service features
Learn to present with Professionalism and Confidence
Become a Negotiation Specialist to close more sales
Every Customised Sales Training and Coaching program is facilitated by an experienced Professional and Practitioner.
KONA does NOT run generic, off the shelf, 'by the manual' sales training courses, delivered by theoretical trainers or academics.
Receive a FREE Sales Capability Assessment for your team by contacting KONA today at info@KONA.com.au, or call 1300 611 288
Contact KONA to discuss how Hearts and Minds™ selling will change your salespeople's results. Call: 1300 611 288| SMS: 0481965405 | Email: info@kona.com.au
KONA Sales Training Academy
KONA Training Academy modules can be customised to suit your business.
Delivered at your workplace or chosen venue.

To Find Out More About Our

KONA

Training Academy
Call 1300 611 288
SYDNEY
Phillips Street.
Neutral Bay NSW.
Australia 2089.
MELBOURNE
Suite 1 | 432 Smith Street,
Collingwood Victoria.
Australia 3066.
CENTRAL COAST
Empire Bay Drive
Kincumber, NSW
Australia 2251.
LONDON
Suite 1 | 2 Gipsy Hill,
London, SE19 1NL.
United Kingdom.
We cover all States Australia wide including Sydney, Melbourne, Brisbane, Perth, Adelaide and Hobart.
Contact Us Now or Call 1300 833 574