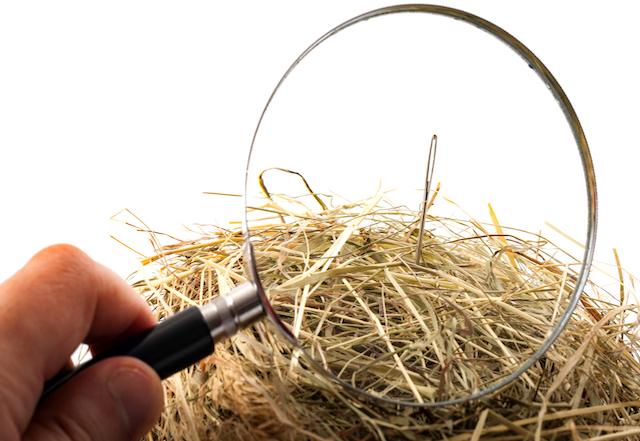 Sometimes finding the right people to join your Sales Team can be like finding a Needle in a Haystack.
While assessment tools like DISC, MBTI and HBDI are appropriate to gain insights into Sales People's personalities, The Profiles Sales Assessment (PSA) measures how well a person fits specific sales jobs in your organisation.  It is used primarily for selecting, on-boarding and managing sales people and account managers and improves the chance of a successful hire by over 300%.
When you Job Match match candidates to a Success Profile benchmarked against YOUR organisation's most successful sales people, PSA is a scientific, data driven Sales Assessment that will predict a Sales Person's on-the-job performance in 8 critical sales behaviors including:
Resilience
Prospecting
Call reluctance
Self-starting
Building and maintaining relationships
Ability to close the sale
Working with a team
Remuneration preference.
The PSA Job Matching is based on your organisation, your culture and what it takes to be successful in your organisation…
When you work with The KONA Group to develop a success profile for your Sales Team using our process you take the first step to future, sustainable revenue growth and can include:
Benchmarking all of your Top 6 – 10 performers
Creating tailored Success Profiles for Sales People in your organisation, not generic, off the shelf profiles
Measuring potential and existing employees against your Organisation's Success Profile
Create tailored interview guides for job candidates so you can explore their potential development areas based on science, not gut feel
Create coaching programs for existing members of your sales team
Review of Job adverts and selection plans
Creation of resume cull programs based on Job Match Sales Profiles
Training of your Sales Leaders in the required interview techniques
Analysis of your current team compared to your organisations Success Profile
Targeted performance development programs for all of your current team
The Profile Sales Assessment (PSA) and it's non sales equivalent can also be integrated with any of The KONA Group's Customised Sales Training, Sales Management Training, Call Centre Training and Customer Service Training programs.

Contact KONA's PSA Profiling Specialist today and call 1300 611 288 SMS 0425 200 883 or email info@kona.com.au.