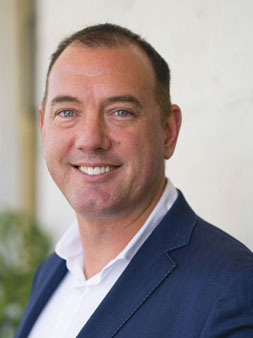 Acknowledged by his clients and peers as a thought leader, Brendon is recognised for having a broad and exceptionally unique skill set that draws from his 15+ years' experience in both sales and marketing. He excels at client service, relationship management, and creating customer experience strategies.
Driving direction from insight and business intelligence, Brendon also has solid experience in HR, finance, CRM and IT services, retail operations and business development.
Working with category leading clients across a breadth of industries, has resulted in his personal growth and experience being fostered by world-leading businesses and industry leaders. Brendon's industry and product category experience spans across Lifestyle brands, Information Technology (IT), Home Entertainment, Fashion, Consumer Electronics, Retail Hospitality, Pharmacy Sales, and field marketing services for Hardware and Grocery.
As a solutions focused problem solver by putting people and services together, Brendon's experience translates to the consistent delivery of strategy, development of sales and marketing campaigns, and attracting a high calibre of staff who wish to work with him.
Brendon achieves success by identifying changing trends and adapting go-to-market strategies; drawing on his business acumen to deliver business solutions, innovation, proven activation strategies and detailed sales plans.
Brendon has been privileged to present his highly successful APAC region sales and marketing strategies to overseas head offices at Apple, Hewlett-Packard (HP) and THQ in the USA. He has also shared his insights and activation achievements with other global teams for Nestle and iTunes. This has resulted in local ANZ practices being adopted as 'industry leading' by overseas markets for Apple, HP and Nestle.
Brendon recently launched into consultancy after a successful 10+ years' service as Director of Client Service, shopperXP at one of the largest shopper marketing businesses across the US and ANZ, CROSSMARK.
Brendon is a proven specialist in the following areas:
Sales Management | Sales Planning |Network Pipeline
Marketing Strategy | Digital Marketing Strategy | Social Media Strategy
Business Development | Planning & Forecasting
Account Service | Relationship Management
Customer Experience | Shopper Marketing
People Development | Leadership | Team Management
Connect with me on Linkedin.
SYDNEY
Phillips Street.
Neutral Bay NSW.
Australia 2089.
MELBOURNE
Suite 1 | 432 Smith Street,
Collingwood Victoria.
Australia 3066.
CENTRAL COAST
Empire Bay Drive
Kincumber, NSW
Australia 2251.
LONDON
Suite 1 | 2 Gipsy Hill,
London, SE19 1NL.
United Kingdom.
We cover all States Australia wide including Sydney, Melbourne, Brisbane, Perth, Adelaide and Hobart.
Contact Us Now or Call 1300 833 574