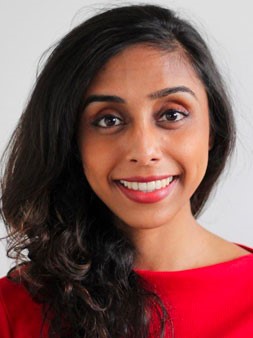 Afra is passionate about unlocking innovative approaches for organisations to champion new forms of thinking; with multi-industry experience in Banking, Social Enterprise, Retail, Fast Moving Consumer Goods (FMCG) to name a few. Afra also has a passion for helping start-ups and SMEs.
Afra is a proven specialist in the following areas:
Throughout her career, Afra has applied her strategic and commercial acumen towards developing and executing sustainable business models that drive profit through purpose for small and big businesses alike. She is a firm believer that systems, as we know it, require some healthy disruption and works to help businesses be at the forefront of making it happen.
Whether developing initiatives that connect economic, social and environmental values, implementing new business models, or developing people, Afra uses a holistic approach to problem solving grounded in research and creativity. She achieves success by diving into her unique experiences in lean innovation, design thinking, sales and marketing and overlaying it with the needs of her clients.
When not at HBB Group, you can find Afra baking up a storm in her bespoke cake business.
SYDNEY
Phillips Street.
Neutral Bay NSW.
Australia 2089.
MELBOURNE
Suite 1 | 432 Smith Street,
Collingwood Victoria.
Australia 3066.
CENTRAL COAST
Empire Bay Drive
Kincumber, NSW
Australia 2251.
LONDON
Suite 1 | 2 Gipsy Hill,
London, SE19 1NL.
United Kingdom.
We cover all States Australia wide including Sydney, Melbourne, Brisbane, Perth, Adelaide and Hobart.
Contact Us Now or Call 1300 833 574