DISC Personality Profiling
How your employees communicate with each other and with your customers can affect the overall productivity and success of your organisation.
KONA Group utilises the power of the DISC model to improve the quality of your workplace. DISC is the worlds' most popular and recognised personal assessment tool which for over 40 years has helped organisations worldwide to improve their employees performance and interactions with other people.
While this tool sounds complicated at first, it is actually easy to use. When done right, DISC profiling can help provide you with different advantages such more effective managers and leaders, more organised teams, improved sales and customer service, enhanced employee communication and reduced conflict among others.
OUR APPROACH
Many so-called DISC profiling assessments in the market often go over the top with this very simple tool. Our expertise and approach, however, is more unique yet simple as it only teaches people how to communicate more effectively without the need for any prior expertise in psychology.
Our solution is configured in way that can help people gain a much better understanding of themselves, and therefore realise how their behaviour and communication style can affect others. It also enables people to determine what makes other people tick, and then based on this knowledge, become more flexible and adaptable in their approach to others – ultimately helping them to achieve better results and more sales than ever before.
Benefits of DISC Profiling
Because DISC "personality" profiling gives you not only an understanding of how you are perceived by others, but it also gives you a language (or set of terms) to discuss your behaviour, communication, style of working and reactions. It is the ultimate 'mirror on the wall' that explains what everyone else can see: the surface level of who you are – your behaviour.
Reduce the costs of hiring the wrong people.
Position the right people into the right jobs.
Deliver on key objectives and KPIs.
Improve team performance and communication.
Increase individual and team motivation and retention.
Tackle Internal Issues not being addressed.
Considering DISC "Personality" Profiling for your Organisation?
If you are considering DISC profiling for your organisation, we would love to show you our assessment tools  that include DISC that we have available. This type of objective assessment help to determine job fit for candidates, provide tips and tricks for managers on their teams as well as provide a great model for personal development in the area of sales, service, communication, team building among others).
Choosing to test candidates and employees is something that most of the top companies throughout Australia, New Zealand and the world participate in and we can help you implement an assessment based talent management strategy, regardless of size.
DISC Profile Testing in Australia and New Zealand
KONA Group works with Australia's leading provider of DISC profiling tools, and provides a range of insights into your team's behavioural styles and preferences including:
How they like to be Communicated with
What Motivates them
Their Attitudes and Fears that hold them back
Their Strengths and Weaknesses that affect their work
Their Work and Job preferences
How they do, or don't, Handle Conflict
Their and Your Leadership and Management Styles
The Success Insights Suite is a powerful set of tools for selecting, developing and managing people to maximise their performance.
History of DISC Theory
The theory behind the DISC profile was developed by William Moulton Marston to categorise behaviour and emotions. Years later, the theory was shaped into the assessment that is used today.
Simply stated, DISC profiling measures how we behave and communicate. One of the most powerful things about DISC profiling is the fact that people identify with the report almost immediately! People instantly recognise themselves in the profile. The real value comes from using this information to understand how to adapt to be more effective.
This model has four factors based on two intersecting axes. The vertical axis ranges from "task/goal" focused behaviours to "people/relationship" focused behaviours. The horizontal axis ranges from "reserved" (or "ask/listen") behaviours to "outgoing" (or "tell/talk") behaviours. With these two intersecting axis, four quadrants emerge:
Dominance (D) – How we deal with problems and challenges
Influence (I) – How we deal with people and contacts
Steadiness (S) – How we deal with the pace and consistency of the environment
Compliance (C) – How we deal with procedures and constraints
"The most powerful thing about DISC is its simplicity."
We all have some degree of each of the four behavioural styles (i.e. we are not just one type/style). Whether an individual measures "high" or "low" on the D, I, S or C spectrum, the behaviours are still visible and recognisable on the surface. Most people have two dominant styles; however any combination is possible.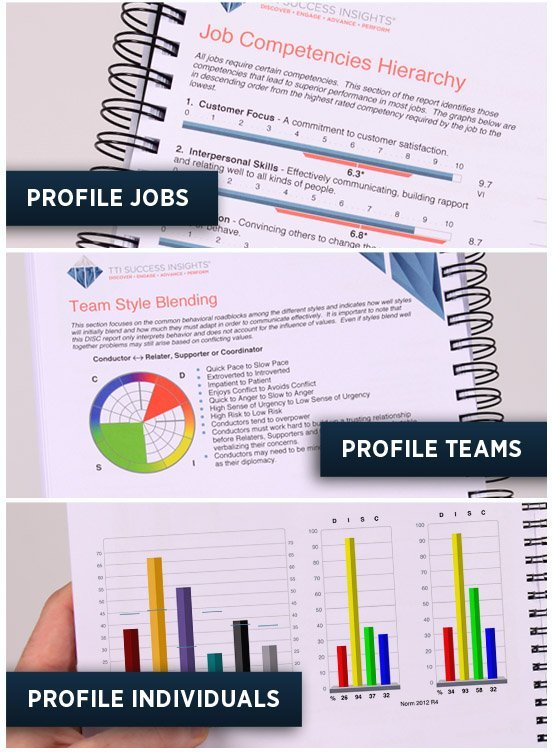 NOTE: DISC is NOT a Personality Test
The DISC profile only looks at a small component of personality. It only measures behaviour, that is, the four common ways that people tend to act and communicate, which has been validated by more than 50 years of research. Calling the DISC profile a 'personality test' can be misleading as there is a great deal to an individual's personality beyond the scope of this system, and the term 'test' implies you will pass or fail, which is not the case with the DISC profile.
KONA GROUP TRAINING SOLUTIONS
Our training solutions can be grouped in four main categories – Sales, Management, Leadership and Motivation.
DISC can also be integrated with any of KONA's Customised Sales Training; Sales Management Training; Call Centre Training and Customer Service Training programs.
Download our white paper on the reasons why our assessment tools are the best in Australia.
KEY BENEFITS OF DISC PROFILING & TRAINING FOR LEADERS & THEIR TEAMS:
Build Trust: Trust is the most valuable resource that a leader has. While there are many factors that will build or erode trust, the leader that recognises and responds to others' preferred method of communication and approach to work will be in a much better position to gain the cooperation and commitment of those around them.
Better Communication: Understand the best (and worst) ways to communicate with each team member.
Team Synergy: Team members will develop a better awareness of each others' communication and work style, as well as their manager's. By being able to predict other people's natural responses to situations, they can learn to more quickly adapt to the situation themselves.
Self-Awareness: Help the leader understand how their behavioural tendencies might be perceived by others in the team (particularly those of the opposite style).
Assign Tasks: Understand which people are better behaviorally suited to certain types of tasks.
Prevent Conflict/Misunderstandings: The DISC model helps to reduce team conflict by providing a common language to discuss behavioural tendencies (which is particularly important to those with opposite styles).
Team is Better with Customers/Selling: Customers buy from people they like and trust. With a guiding awareness of their own tendencies and that of others, team members will be able to more effectively communicate, build rapport, and present information according to the customer's unique buying style.
Hiring/Induction: The DISC profile can be used to highlight potential behavioural strengths and possible challenges which can then be addressed and targeted with questions in the interview stage. The DISC profile should ultimately validate or challenge the hiring manager's impression of the candidate, and be used to determine if there is an apparent miss-match between the role and the candidate's natural behavior. It is also a useful on-boarding/induction tool so that the manager and the rest of the team have a clearer picture about what they can expect from the new recruit and how they prefer to go about their work.
Coaching Tool: The DISC profile serves as a platform to have non-threatening conversations about people's behaviours (particularly non-productive behaviours).
Feedback is Validated: Team members will more readily accept negative feedback from a computerised assessment about their behaviours than they would if they were to hear the same feedback from their manager or another individual.
Improve Emotional Intelligence (EI): The ultimate goal of the DISC profile (along with all other similar professional development tools) is to improve the individual's emotional intelligence. Because the DISC profile is very simple and practical, it is one of the best frameworks available for fast-tracking EI, particularly in the domains of Empathy and Social Skills.
Explanation by our DISC partners TTI SI.
KEY BENEFITS OF DISC PROFILING AND TRAINING FOR SALESPEOPLE:
A Validated Process for Building Trust: No glitzy new ideas for overhauling your sales process — simply a reliable, accurate and validated model for identifying and adapting to the communication needs of different customers, which has been used by tens of thousands of companies around the world.
Better Communication: Understand the best (and worst) ways to communicate to certain types of customers.
More Self-Aware: Salespeople will be better able to evaluate how customers perceive them and adjust their selling style to the particular behavioural needs of each customer.
Team Language: A shared language for salespeople to work more effectively within their teams, as well as with their managers.
Sales Management: The DISC framework helps the sales manager understand the type of environment in which each style will be most productive.
Explanation by our DISC partners TTI SI.
SYDNEY
Suite 1,
11 Phillips Street
Neutral Bay NSW
Australia 2089.
LONDON
Suite 1,  2 Gipsy Hill
London, SE19 1NL
United Kingdom
MELBOURNE
Suite 1,
432 Smith Street
Collingwood Victoria
Australia 3066.
We cover all States Australia wide including Sydney, Melbourne, Brisbane, Perth, Adelaide and Hobart.
Contact Us Now or Call 1300 833 574