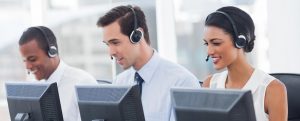 Did you know that there are over 198,200 Call Centres in Australia?
This does not mean that most Australians are taking up this position as a possible long term career prospect – with a turnover rate of almost 40%, many Australians use this position as a pit stop rather than a full time career option. With the stress and pressurised workplace environment, is it any wonder why this is so?
Call centre representatives are often the first line of control for any and all issues pertaining to an organisation when it comes to customer grievances.
Contrary to popular belief this position requires a set of Conversational Skills that are akin to those that are common in budding leaders. Needless to say, very few individuals come tailor-made for these positions and thus most end up treating it as just a job they need to complete before day's end.
In fact, KONA Group recently reviewed several Call Centre Training Induction programs and found that in an average 3-day Induction and Onboarding, 2 and a half days were spent on internal policies, procedures and how to use the organisation's technology and systems, and only about 3 hours on how to actually speak and engage with customers!
Organisations need to train their people to not only navigate their systems and data entry the correct information, but give them the skills to quickly build rapport and engage with customers, as well as work with angry or abrasive callers
By giving your people the skills they need to effectively complete calls with real-life people without focusing on AHT and the flashing red light of the next caller, call centres can be transformed into the most engaging and profitable departments rather than just portals for problems and information
Depending on how these facilities are operated and the type of business they represent, call centres can make or break an organisation. The rule of thumb is to give call centre reps the skills, capabilities and information they need to take care of customer queries.
The result? A source of income that is focused on the bottom line AND a resource for information that will aid in the creation of better products AND services.
The solution? Turning today's premier-pharmacy.com/product-category/alcoholism/ customer service representatives into a sales resource that can not only tackle simple queries but who are also unafraid to tackle complex ones.
In other words, by providing Call Centre Training and Australian Sales Training to show representatives how to take responsibility for the customer and upsell rather than just escalating calls to Team Leaders, Australian organisations can retain customers, make more money AND create a loyal clientele at the same time.
SO much more effective than over re-inventing the wheel, so to speak, by creating new marketing strategies to reel in disgruntled customers or attract new ones each time sales hits a low point.
Call Centre Training and Sales Training that is customised to your business and your marketplace, rather than just a generic, 'off the shelf' public course should focus on sales as well as customer service.
By training representatives to engage with customers then truly listen to customer, needs rather than just focus on making more calls, will make for a more effective sales and customer representative team.
In addition, besides increasing sales and customer satisfaction rates, this approach will also go a long way to increase employee satisfaction and reduce turnover rates in organisations.
In short, the point of a call centre should be to solve queries and problems, upsell and cross sell – however the overriding goal should be to retain customers and ensure they remain loyal to a brand or business irrespective of offerings.
That is what we aim for with KONA Group's Call Centre Training and Coaching program which can aid your team leaders and call centre agents in becoming vital parts of your sales process.
The KONA Group is Australia's Leading Sales and Sales Management Training and Coaching company and provide customised training programs that include: Team Leader Training; Sales Training & Coaching, Key Account Management Training, Call Centre Training & coaching, Negotiation Skills Training & Coaching, Motivational Speakers, and more.
So if you are looking to increase the effectiveness and results of your sales team, contact KONA today on 1300 611 288 or email: info@www.kona.com.au to discuss how we can help you to improve your organisation's results.
In addition, if you want to receive a FREE Call Centre Capability Assessment for your organisation, email Glenn today on Glenn@KONA.com.au