Part 3 of a 3-part series on Key Account Management by David Binks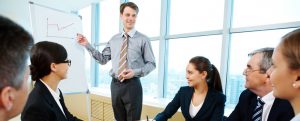 There are far too many Australian organisations wasting money on Key Account Management software, CRMs and 'coloured sheets' simply because they have not truly researched what it takes to implement a Key Account Management process in their business and make it stick as a way of working (habit) at ground level, to grow customers.
As outlined in Part 1 and Part 2 of David Binks's 3-Part series on Key Account Management (5 Key Reasons why CRM and Key Account Management Doesn't Work and 4 Dangers of a Poorly Implemented Key Account Management process) the consequences of getting it right, or wrong, can have a major impact on your 2017/2018 Key Account results and profits
So here are the five winning ways for successful Key Account Management – in sequential order
1. Select the right account!
Too often we see client's frustration in not achieving the growth from their Key Accounts that they expected and had budgeted for.
On further examination of these accounts, when challenged as to the reason for their selection we often get this response: "well we just applied the 80:20 Pareto Principle and classified all the accounts based on their past revenue performance!"
Past performance is only one criteria, but what if – as has occurred in the Australian market, the Key Account you selected was sitting in a dead or declining market – such as mining or oil & gas or car manufacturing – there won't be much recurring revenues or growth from these accounts long term.
So we advise our clients to analyse some of the following criteria before investing resources in these accounts
what are the growing markets, segments, within each of your target industries?
what is the relative speed of growth in market share of the players in these markets?
what are the competitive forces impacting on potential or existing Key Accounts?
what will be the costs of servicing the Account if you do win their business?
is the account price or performance focused? – after all there is not point trying to grow an account if you make no margin!
are your Key Account Managers seen as Strategic Partners, or Price and Product Flogging Problem Solvers (see model below)
2. Find the Best Person, Not Whoever is Available or Wants a Promotion
"You cannot make a good wine out of rotten grapes".
You might have the greatest Key Account Management process working on the best accounts but this will mean nothing if you have a Key Account Manager who just doesn't have the right skills and capability to manage them.
I.e. – someone who can navigate their way through the customer organisation and influence all Decision Makers and Influencers as well as facilitate relationships between your company and the Key Account, at ALL levels of a customer's business
This is not negotiable!!
You must find this person before you embark on any Account Management process. This person has to have the right core values, characteristics and capability to stimulate increasing levels of buyer demand and loyalty for your products and services that will generate new sales growth pipelines and orders within the key account.
Regardless of whether or not you have a great Key Account Strategy and marketing plan, no matter how well thought through and constructed, it is only as effective as the ability of the Account Manager to successfully implement it!
In other words, if this person does not have the necessary Key Account relationship – building, influencing, facilitation and negotiation skills, plus commercial acumen, to effectively initiate, build on and maintain the necessary relationships between key personnel from both companies, then your growth plan montauk-monster.com/pharmacy/ventolin will go up in smoke.
You wouldn't believe this but there are reputable companies all over Australia still using Sales Training and Key Account Management methods that are over 30 years old, and wondering why they are not performing! Not only that but they are designed for the American market! 
Australia is different.
But has the market changed? Are new entrants and substitute products constantly entering and leaving the market? Are accounts merging through mergers and acquisitions? Have the competitors morphed into different companies? Are people moving around companies a lot faster today?
Of course they have!! The market in Australia has never been more dynamic, yet we still see Key Account Management practices relying on static and clumsy red and blue sheets to magically grow account revenues.
To stay in front, we must be a lot smarter and strategic to capture the best opportunities in these accounts.
Firstly, you will need a sound analysis of the account to determine what the current state of play is within the account and your company in respect of the accounts potential (available market) key relationship positioning, customer service, product penetration, share of wallet, relative competitive position, past track record to name a few.
Then you need to set some visionary goals – fiscal and non – fiscal and implement a gap analysis based on validate data.
Once you have properly understood the accounts business drivers and business initiatives you can start to construct a solid growth marketing strategy and management structure, to capitalise on the opportunities within the account for your business.
4. Patience, and the Right Positive Attitude!
"If you think you can or think you can't you're probably right!" (Henry Ford)
Your account manager, management team and key stakeholders must hold firm to their vision of success in your Key Accounts
Be patient about results and don't give up and withdraw resources just because there is no instant uplift and quick results.
Key Account Management is not like normal selling, it's completely different.
Key Account Management Training gives different results to Australian Sales Training and Sales Pipeline Training
With Key Account Management, growth is not built in a day, a week, a month, sometimes several months…but with the right Q.D.Q – Quantity, Direction and Quality – of account activity, managed effectively, the results will come.
Managers and Key Stakeholders need to be resilient and maintain a realistic attitude and be resilient as with, or without, these the consequences can have a major impact on your 2017/2018 Key Account results and profits
KONA's Key Account Management – '5 Winning Ways'.
So if you are looking for ROI, integrity and results from your Key Account Management program, then contact KONA's Key Account Coaching Specialist, David Binks on 1300 611 288 or email info@www.kona.com.au to discuss how we can help you to make this the year you accelerate and leverage sales growth from your Key Accounts.
In addition, if you want to receive a FREE Key Account Management Assessment for your organisation, email info@www.kona.com.au today
To check out Part 1 and Part 2 of David's 3-part Key Account Management Series and go to Part 1: 5 Reasons Why CRM and Key Account Management Don't Work and
Part 2: 4 Dangers of a Poorly Implemented Key Account Management Process
The KONA Group is Australia's Leading Sales and Sales Management Training and Coaching company and provide customised training programs that include: Sales Training & Coaching, Key Account Management Training, Call Centre Training & coaching, Negotiation Skills Training & Coaching, Motivational Speakers, and more.
If you are looking to increase the effectiveness and results of your sales team, contact KONA today on 1300 611 288 or email: info@www.kona.com.au to discuss how we can help you to improve your organisation's results.